Home > Artists > Painters > Diana Alva
Diana Alva
Painter.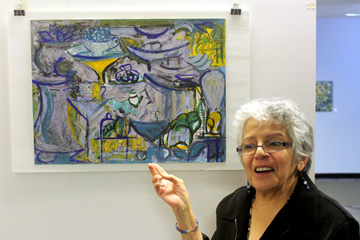 Diana Alva with her painting "The Last Barbecue" at the Mexicantown Cultural Center. Photo by Alonso del Arte.
Upcoming exhibitions
Various, not yet announced.
Past exhibitions
This is not a complete list; I hope to have a more complete listing later on.
With Ramon Guadiana at the Mexicantown Cultural Center. September 21, 2018 – October 20, 2018.
External links
News
PLACEHOLDER FOR NEWS
Reviews
Gary Freeman, "105 Diana Alva", Essay'd, July 25, 2018. "Alva grew up to combine her love of the earth with gardening, pushing and pulling the soil to form beds for her flowers, herbs and vegetables. It is the same organic pushing and pulling process she carries over into her pottery and painting technique: start with a basic idea, outline it with bold line work, refine and massage it as if creating a story or conversing with the pottery or painting in progress, then finish it with a full measure of life-giving color."