Home > Artists > Painters > Elton Monroy Durán
Elton Monroy Durán
Brilliant painter who has done many excellent murals for quite a few Detroit businesses and organizations.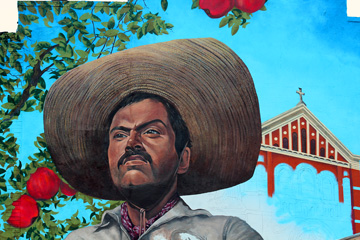 A mural by Elton Monroy Durán, work in progress, not far from Holy Redeemer.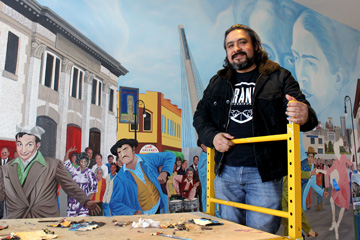 Elton takes a break from his work on the Mexicantown Cultural Center mural. Photo by Alonso del Arte.
Upcoming exhibitions
Jack O. Summers Featured Artist at Detroit Artists Market. Slated to open May 1, with a reception from 6:00 p.m. to 9:00 p.m., and run to May 30. Due to the coronavirus epidemic and the stay-at-home order, this exhibit is hopefully postponed, not canceled.
Plus various other plans.
Past exhibitions
This is an incomplete listing.
City Walls, sponsored by the Southwest Detroit Business Association. October 26, 2017.
External links
News
PLACEHOLDER FOR NEWS.
TO DO: Cite Mi Gente May 2005 article.
Reviews
PLACEHOLDER FOR REVIEWS