Home > Artists > Painters > Elton Monroy Durán
Elton Monroy Durán
Brilliant painter who has done many excellent murals for quite a few Detroit businesses and or­gan­i­za­tions. Most of his murals are outdoor murals, but a few are indoor murals (the one in the Sec­re­tary of State office near the Ambassador Bridge, and the one inside E & L Super­mer­ca­do, near the entrance, to give just two examples).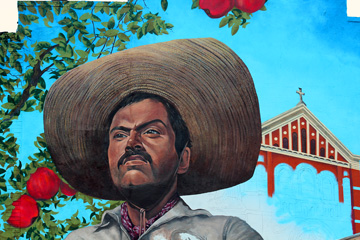 A mural by Elton Monroy Durán, work in progress, not far from Holy Redeemer.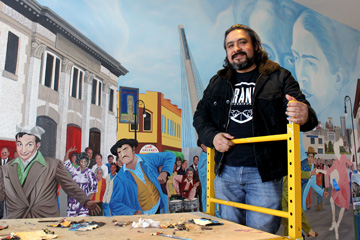 Elton takes a break from his work on the Mexicantown Cultural Center mural. Photo by Alonso del Arte.
Upcoming exhibitions
Various plans.
Past exhibitions
This is an incomplete listing.
External links
News
PLACEHOLDER FOR NEWS.
TO DO: Cite Mi Gente May 2005 article.
Reviews
PLACEHOLDER FOR REVIEWS