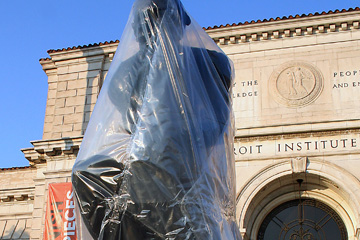 Rodin's Thinker, wrapped, in front of the DIA.
Home > Museums > Detroit > Detroit Institute of Arts
Detroit Institute of Arts
5200 Woodward Avenue
Detroit MI 48202
The Detroit Institute of Arts (DIA) is easily the most important art museum in all of Michigan. The museum's permanent collection includes artwork by famous American and European artists, as well as important historical artifacts.
General admission is free for Wayne, Oakland and Macomb residents, whose tax dollars help keep the museum afloat financially. Special exhibits, usually but not always, have a separate admission fee.
The 82nd Detroit Public Schools exhibit opened on April 27, 2019, and ran to June 2, 2019. Admission was free with museum admission.
On January 26, 2019, there was an "out of crate" sneak peek of African art at the DIA.
From July 20 to November 4, 2018, the DIA presented an exhibit of art by Carole Harris and Allie McGhee. The opening is part of the opening events of Detroit Art Week 2018.
External links
News
Most of the news about the DIA in the past decade have been about the city's bankruptcy and how it threatened to cause the most valuable artwork from the permanent collection to be sold for pennies on the dollar to satisfy creditors.
In 2012, voters were asked to approve a millage to save the DIA. They voted in favor of the millage, which increased their property taxes. But if the voters had known that crook Graham Beal, the director at the time, had accepted a major salary raise and was generally more interested in lining his own pockets, they might have voted differently.