Home > Artists > Fiber Artists > Carole Harris
Carole Harris
Quilt artist, designer, educator. A Wayne State University graduate, she was president of Harris Design Group LLC for many years. Named Kresge Fellow in the Visual Arts in 2015.
The Third Edition of the Norton Anthology of African American Literature features her artwork on the cover. Carole has received commissions from the White House, St. Joseph Hospital in Ann Arbor and Detroit Receiving Hospital, as well as numerous commissions from private art collectors.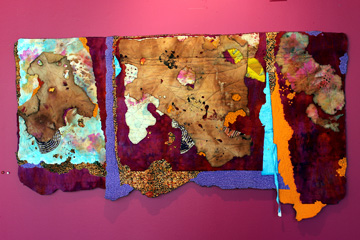 A piece by Carole Harris at the N'Namdi Center for Contemporary Art.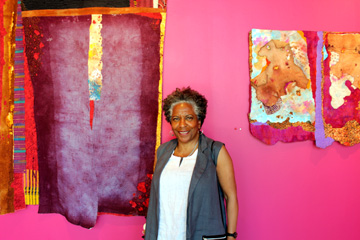 Carole at N'Namdi, after the gallery talk for her solo show there.
Upcoming exhibitions
Journeys in Place at The Hill Gallery. Slated to open May 15, with a reception from 1:00 p.m. to 5:00 p.m., and run to June 30.
Plus various other plans.
Past exhibitions
Working Paper, at The Hill Gallery. June 15, 2019 – August 18, 2019.
All Media Exhibition at Detroit Artists Market. January 18, 2019 – February 16, 2019.
Repetition, Rhythm, and Vocab, with Allie McGhee, at the Detroit Institute of Arts. July 20, 2018 – November 4, 2018.
One night pop up exhibition at M Contemporary Art. October 13, 2018.
Artists Who Stitch, at Detroit Artists Market. Curated by Jack Summers. Opened June 15, slated to run to July 14.
De facto Detroit: Selections from The N'Namdi Collection at Center Galleries (on the College for Creative Studies campus). September 17, 2016 – October 22, 2016.
Reveal: Conceal/Conceal: Reveal solo show in the Rose Gallery of the N'Namdi Center for Contemporary Art. April 15, 2016 – June 25, 2016.
Strata, solo show at Live Coal Gallery. ??? ??, 2015 – ??? ??, 2015.
The Essential Self: Meditations on the Politics of Identity at Detroit Artists Market. June 12, 2015 – July 18, 2015.
Abstraction: Artist | Viewer | Dialog at Detroit Artists Market. May 1 – 30, 2015.
Rhythmic Depiction at the Brown and Juanita C. Ford Art Gallery (Wayne County Community College District). ??? ??, 2015 – ??? ??, 2015.
...many more...
It's a very long list, the above will only reflect her exhibitions from 2015 forward. One of the highlights from before 2015 is the exhibition at the Renwick Gallery of the Smithsonian at the turn of the century.
External links
News
Reviews
Ron Scott, "Carole Harris & Allie McGhee @ Detroit Institute of Arts", Detroit Art Review, July 26, 2018. "The first thing that jumps out from the work Bearing Witness is not her choice of material, but her use of color, form and composition. The strength she demonstrates draws on her informal use of space, the counter-play of color, and the texture given to torn shapes and line work."
Dennis Alan Nawrocki, "45 Carole Harris", Essay'd, February 2016. "Of late, Harris's imagery and technique reveal a decided swerve down a road not heretofore taken. ... Instead of looking out, she looks within: jewel tones are replaced by intimate, muted hues; execution by scissors and thread is replaced by draping; single unitary compositions banish commingling fragments; and the elemental replaces the topical. Soft, frayed edges, and vintage, torn (or even burned) fabrics form palpable, multi-layered compositions. Visible lengths of material, rather than sewn flat and edge-to-edge, become loose, informally arrayed elements."