Home > Artists > Painters > Désirée Kelly
Désirée Kelly
Painter, former Metro Times production manager. Art clients which include The Ellen DeGeneres Show, Converse, Jack Daniels, Pandora, Kroger, Beaumont Health, Atwater Brewery, Foot Locker.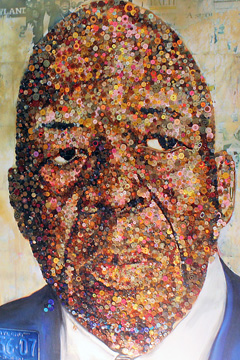 Portrait of U. S. Rep. Elijah Cummings (D-Baltimore, Maryland, 1996 — 2019) by Désirée Kelly.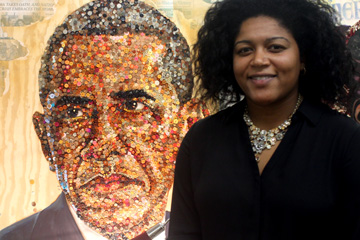 Désirée with her portrait of President Barack Obama at the Main Library of the Detroit Public Library.
Upcoming exhibitions
Various plans.
Past exhibitions
Multifaceted Narratives: An Exploration of Black Figurative Art, curated by Juana Williams, at Detroit Artists Market. August 14, 2020 – September 12, 2020.
Then & Now: A Retrospective of Portraits, at the Detroit Public Library Galleria. December 7, 2019 – March? ??, 2020.
...a few more...
Red Bull House of Art, Cycle 5. August 9, 2013 – October 26, 2013
...quite a few more...
External links
News
Reviews
PLACEHOLDER FOR REVIEWS