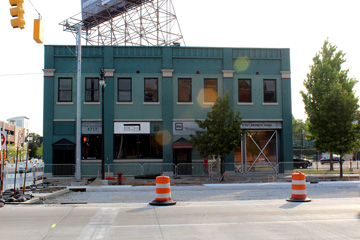 The front of the building Detroit Artists Market is in, during QLine construction in 2016. The main entrance is in the back, by the rear parking lot.
Home > Galleries > Detroit > Detroit Artists Market
Detroit Artists Market
4719 Woodward Avenue
Detroit MI 48201
309 Stroh River Place, Suite 1650
Detroit MI 482??
One of Detroit's oldest galleries. There are more former addresses than listed here. Founded as the Detroit Young Artists Mar­ket in 1932 at a location on Farmer Street, the gallery's name was shortened in 1936 and the location has changed over the years, but the gallery's com­mit­ment to young artists has never wa­vered... well, may­be that statement needs a couple of asterisks.
In 2014, there was a painful lesson for De­troit Artists Market. The celebration of De­troit's 313th birthday included no black art­ists, pro­ducing concentrated backlash on social me­dia. After that painful lesson, there has been some improvement in the inclusion of black art­ists. There's more to be done, but at least there has been some honest, proactive effort.
However, without a painful lesson telling them to include Latino artists, Detroit Artists Market won't make any effort to include La­ti­no artists for exhibits other than exhibits about diversity. It's as if Latino artists exist only when the topic is diversity, as far as De­troit Artists Market is concerned.
Openings are usually on Fridays from 6:00 p.m. to 9:00 p.m. Gallery hours are on Tues­days through Saturdays from 11:00 a.m. to 6:00 p.m. In between one show closing and the next one opening, the gal­lery's gift shop is still open to the public, with a few exceptions (mostly for holiday observances).
Current exhibition
Art for the Holidays (2023). Opened November 10 and slated to run to December 30.
Upcoming exhibitions
Not yet announced.
Past exhibitions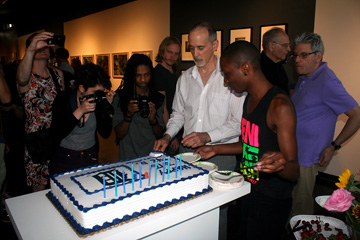 Cutting the first slice of the cake for Detroit's 313th birthday at the 313 opening on June 6, 2014.
In Other Words, Jide Aje, Nina Ashraf Asmi, Lynne Avadenka, Yoriko Cronin, Eric Fogle, Espacia Foţiu, Jennifer Gariepy, Janet Hamrick, curated by Veronica Bielat. Featured Artist Sarah Catherine Blanchette. September 22, 2023 — October 21, 2023.
Hot DAM Detroit Artists Market annual. Featured Artist Kathryn Poremski. August 4, 2023 — September 2, 2023.
Extended Limb, Onyx Ashanti, Katie Craig, Jessica Dolence, Jeffrey Evergreen, Clare Gatto, Julian J. Jones, Matt Lambert, Ian Moone, Michael Nagara, Merel Noorlander, Nicole Pyles, Andromeda Schmidt, Todd Stovall, Cedric Tai, Reuben Telushkin, Ara Thorose, curated by Holliday Martindale. With Featured Artist Kristen Esch. June 16, 2023 — July 15, 2023.
The Dreamer Warriors, artists to be announced, curated by Jetshri Bhadviya. With Featured Artist Mike Sivak. Slated to open April 28 and run to May 27.
Cranbrook Academy of Art scholarship show. With Featured Artist Lindy Shewbridge. March 10, 2023 — April 8, 2023.
Concerning Landscape, a two-venue exhibit curated by Megan Winkel. January 20, 2023 — February 18, 2023.

At Detroit Artists Market: Carla Anderson, John Azoni, Helen Gotlib, Carole Harris, Kayla Powers, Sharon Querciagrossa, Jocelyn Rainey, Jon Setter, and Ann Smith, With Featured Artist Roberto Patiño, Jr..
At the Henry Ford Cancer Pavilion, 2800 W. Grand Boulevard, Detroit, Michigan: Donald Cronkhite, Pamela Day, Ellen Doyle, Frank James Fisher, Bill Gemmell, Alex Gilford, Birgit Huttemann-Holz, Sarah Kasper, Nancy Kozlowski, Diane Marie Kramer, Matt Lewis, Brant MacLean, Steve Miller, Scott Millington, Christine Monhollen, Jon Parlangeli, Catherine Peet, Kari Rasmussen, Christine Ritchie, Olya Salimova, Bill Schahfer, Mark Zapico.

Art for the Holidays (2022). November 11, 2022 — December 30, 2022.
Detroit Expat Artists' Homecoming. Matthew Bandsuch, Christopher Batten, McArthur Binion, Melvin Clark, Brenda Goodman, Garry Grant, Artis Lane, Al Loving, Joshua Newth, Yolanda Sharpe, Eric Smith, Nick Sousanis and Michael Kelly Williams. Curated by Stephanie James and Elizabeth Youngblood. With Featured Artist David McGuffie. September 23, 2022 — October 22, 2022.
A group show inspired by Detroit's comic book artists, Walter Bailey, Nicholas Baldwin, Madeleine Barkey, Dave Chow, Terence Cover, Evan Derian, Frank Fisher, Thomas Gratch, Kate Hanley, Kassandra Heller, Christina Hill, Chris Houghton, Kyle Irving, Arvell Jones, Dennis Jones, Chaos Keefe, Peggy Kerwan, Chris Krolczyk, Michael Kucharski, Tony Lindsey, Luke MacGilvray, Sean Mack, Bill Morrison, Isabel Paul, Sean Peacock, Justin Penna, Nick Pizana, Delon Robinson, Ryan Shipman, Matthew Thornton, Rachel Zahorsky. With Jack O. Summers Featured Artist Mark Mardirosian. Opened August 19 and slated to run to September 10. There will be a sort of mini-convention, "DAMICON," on August 27, from 1:00 p.m. to 4:00 p.m.
2022 Biennial. July 15, 2022 — August 6, 2022.
Mighty Real / Queer Detroit presents Poets, Mystics and Gods. Austin Ackles, Brian Buczak, Patrick Burton, Brian Carpenter, Carl Demeulenaere, Julio Dominguez, Bakpak Durden, Brett Evans, Carl George, Brenda Goodman, Michael Gute, John Gutoskey, Ray Johnson, Kira Keck, Maureen Petrucci, Leslie Ann Pilling, Gregory Sobieraj, Peter Sparling, Jon Strand, Jarrad Tacon-Heaslip, Vagner Whitehead, S. Kay Young. With Jack O. Summers Featured Artist Pamela Day. June 3 — June 30, 2022.
Finding Home: Stories of Displacement. Curated by Laura Gibson. April 22, 2022 — May 21, 2022.
Wayne State University scholarship exhibition. March 11, 2022 — April 9, 2022.
Into the Open, Mariam Ezzat, Mara Magyarosi-Laytner, Priscilla Phifer, Heloisa Pomfret, Alice Smith, Mandisa Smith, and Jessica Wildman Katz. Curated by Anita Bates. January 21, 2022 — February 19, 2022.
Art for the Holidays (2021). November 12, 2021 — December 30, 2021.
Why Do I Delight, Shirley Woodson, curated by Leslie Graves. Also includes artwork by Peter Crow, Kimberly Harden, Najama Maat, Dwight Smith, Beverly Watson and Elizabeth Youngblood. With Jack O. Summers Featured Artist Matt Lewis. September 24, 2021 — October 23, 2021.
All Media Exhibition 2021, Jide Aje, Har­old Allen, Zoe Beaudry, Robert Beras, Boisali Biswas, Davariz Broaden, Mar­gue­rite Carlton, Chris Charron, Sher­ell Chillik, Winnie Chrzanowski, Glenn Corey, Amelia Currier, Valarie Davis, Ed­mund Dorsey, Artina Dozier, Laurel Dugan, Jan Filarski, Anne Fur­na­ris, Myles Gallagher, Bill Gemmell, Alex Gil­ford, DaeJona Gordon, Albert Gordon, Jabrion Graham, Margaret Griggs, Talese Harris, Steven Hauptman, Carol Jackson, Naigael Johnson, Dawnice Kerchaert, Rosemary Lee, Brant Mac­Lean, Lilly Ma­ri­nel­li, Ian Matchett, David Mc­Le­more, David Mikesell, Tim­o­thy O'Neill, Bruce Peterson, Marcia Polen­berg, Shir­ley Reasor, Laura Reed, Philip Ross, Angelo Sherman, Donita Simpson, Cam­er­on Singletary, Ann Smith, Ni­co­le­na Stubbs, Rosemary Sum­mers, Ron Teach­worth, Roger Ter­to­cha, Bryant Till­man, Vasundhara Tolia, Kim­ber­ly Tosolt, Alan Vidali, Bryan Wil­son, Marsha Wright, Nolan Young, Lori Zur­va­lec. Cu­rat­ed by Valerie J. Mercer. Au­gust 13, 2021 — September 11.
Overture, Sydney James, Rashaun Rucker, Tylonn Sawyer and Scheherazade Washington. With Jack O. Summers Featured Artist Izaiah Ford. June 25, 2021 — July 24, 2021.
¿Gender?, Austin Brady, Betty Brownlee, Feather Chiaverini, Judy Eliyas, John Hegarty, Callie Hoskins, Sabrina Nelson, Teresa Petersen, Jo Powers, Robert Schefman, Claudia Shepard, James Stephens, Mirosława Sztuczka, Darryl DeAngelo Terrell, Sue Vian. Curated by Gary Eleinko. With Jack O. Summers Featured Artist Aaron Decker. May 7, 2021 — June 5, 2021.
College for Creative Studies scholarship show. With Jack O. Summers Featured Artist Jim Grogan. March 12, 2021 — April 17, 2021.
Salad Days, Martin Anand, Undine Brod, Taurus Burns, Simone DeSousa, Anthony Divis, Andrea Eckert, Mukhliseenah Hajj, Asia Hamilton, Katie Hawley, Scott Hocking, Erik Howard, Chido Johnson, Steve Kuypers, Kevin McCoy, Chris McGraw, CeCe McGuire, Michael Nagara, Cal Navin, Dekilah Nazari, Jeff Nolan, Scott Northrup, George Rahme, Kate Silvio, Gilda Snowden, Cedric Tai, Bryant Tillman, Vincent Troia, Sioux Trujillo, Shoshanna Utchenik. Curated by Holliday Taylor Martindale. With Jack O. Summers Featured Artist Bumbo Krawczyk. January 22, 2021 — February 20, 2021.
Art for the Holidays (2020). November 13, 2020 — December 30, 2020.
Maya Stovall and Todd Stovall. September 25, 2020 — October 24, 2020.
Multifaceted Narratives: An Exploration of Black Figurative Art, Torrence Allison, April Anue Shipp, Judy Bowman, Austen Brantley, Taurus Burns, Ijania Cortez, Rita Dickerson, Bakpak Durden, Olivia Guterson, Désirée Kelly, Brian Nickson, Renee Rials, Rashaun Rucker, Tylonn J. Sawyer, Ricky Weaver, Bre'Ann White, curated by Juana Williams. With Jack O. Summers Featured Artist Tony Rave. August 14, 2020 — September 12, 2020.
A Common Thread, curated by Dell Pryor. With Jack O. Summers Featured Artist Elton Monroy Durán. June 26, 2020 — July 25, 2020. No appointment was needed during gallery hours, but visitors were required to wear face masks and maintain distance from others (and no more than twenty were allowed in the gallery at a time).
Cranbrook Academy of Art scholarship exhibit. With Lucia Calderon Arrieta as the Jack O. Summers Featured Artist. Opened March 6 and originally slated to run to April 11. However, because of the novel coronavirus (COVID-19) pandemic, it was cut short on April 6.
2020 All Media Exhibition, juried by Hubert Massey. January 17, 2020 — February 15, 2020.
Art for the Holidays (2019). November 8, 2019 — December 28, 2019.
Fly | Drown, curated by Maureen Devine. September 13, 2019 — October 19, 2019.
I'm With the Band, curated by Jeff Cancelosi. The roster of exhibiting artists consisted of visual artists who are also musicians. There was an astoundingly inexplicable and inexcusable exclusion of Latino artists. August 2 — 31, 2019.
Thank You, Miles, Scott Berel, Brian Caponi, Vincent Castagnacci, James Collins, Larry Cressman, Simone DeSousa, Cynthia Greig, Janet Hamrick, Lester Johnson, Laith Karmo, Ian McDonald, Brian Kritzman, Paul Kotula, David Edward Parker, John Rizzo, David Rubello, Kate Silvio, Todd Stovall, Lois Teicher, Joe Zajac. Curated by Dennis Nawrocki. With featured artist Darin Darby. June 14, 2019 — July 20, 2019.
Transformation, Christopher Corey Allen, Noura Ballout, Coco Bruner, Ray Katz, Carlo Vitale, S. Kay Young, and Alivia Zivich. Curated by Maureen Devine. April 26, 2019 — May 25, 2019.
Annual Scholarship Show, Wayne State University. March 8, 2019 — April 13, 2019.
2019 All Media Exhibition, juried by Tylonn Sawyer. With featured artist Caroline Del Giudice. January 18, 2019 — February 16, 2019.
Art for the Holidays (2018). November 2, 2018 — December 30, 2018.
Symbiosis, Andrea Eckert, Janet Hamrick, Bill Jackson, Meighen Jackson, Sydney James, Lamar Landers, Faina Lerman, Steve Magsig, Tom Phardel, Sharon Querciagrossa, Aubrey Smith, Elena Smith, Nathan Tonning, Graem Whyte. Curated by Melissa Jones. With featured artist Ramiro Zarate. September 7, 2018 — October 13, 2018.
The Heat Is On, juried by Rebecca Mazzei. With featured artist Patricia Riascos. July 27, 2018 — August 25, 2018.
Artists Who Stitch, Jeanne Bieri, Boislai Biswas, Sandra Cardew, Kelly Darke, Mary Fortuna, Jennifer Gould, Carole Harris, Sarah Mark, Mark Newport, Marilyn Pruka, Scott Northrup, Dolores Slowinski, Emily Wood. Curated by Jack Summers. With featured artist Jide Aje. June 15, 2018 — July 14, 2018.
2018 Biennial All Media Exhibition. Juried by Jim Nawara, the topic was "terrain." With featured artist Alvaro Jurado. April 27, 2018 — May 26, 2018.
College for Creative Studies (CCS) scholarship show. March 2, 2018 — April 7, 2018.
Matter Out of Place, curated by Andrew Thompson. January 19, 2018 — February 17, 2018.
Art for the Holidays (2017). November 3, 2017 — December 30, 2017.
To the End of the Earth, curated by Adrian Hatfield. With featured artist Susan Tusa. September 8, 2017 — October 14, 2017.
100 Bucks, various artists. July 28, 2017 — August 26, 2017.
Pieced Together, Sharon Querciagrossa and other artists. Featured artist was Ron Parent. June 9, 2017 — July 8, 2017.
Now and Then: Artists Contemplate the Summer of 1967, artists include Taurus Burns, Greg Fadell, Sydney James, Charles McGee, Mel Rosas, Rashaun Rucker, Tylonn Sawyer, Carl Wilson, Elizabeth Youngblood. With poetry by Melba Boyd. Curated by Jeff Cancelosi. Featured artist was Nicole Richards. April 28, 2017 — May 27, 2017.
Cranbrook Academy of Art scholarship exhibition. March 3, 2017 — April 8, 2017.
Inspired by Nature, curated by Jeff Cancelosi. Featured artist was Davin Brainard. January 13, 2017 — February 11, 2017.
Art for the Holidays (2016). November 4, 2016 — December 30, 2016.
Tree of Life, Zubel Kachadoorian. Featured artist was Bridgette Neal. September 9, 2016 — October 15, 2016.
Greetings from Detroit: Wish You Were Here. Artists were given old postcards from the collection of the Detroit Historical Society to use in or base artwork on. Featured artist was Emily Wood. July 29, 2016 — August 27, 2016.
Cups, curated by Alice V. Schneider. The exhibit consisted of 250 cups by 60 different artists, plus related artwork by other artists, including Andrea Del Rio, Michelle Tanguay and Lisa Poszywak. DAM Featured Artist was Tom Carey. June 10, 2016 — July 16, 2016.
Biennial All Media Exhibition 2016. April 29, 2016 — May 28, 2016.
Wayne State University scholarship show, featuring Robbie Aaron, Rachelle Baker, Allan Bennetts II, Darice Cobb, Ian Decker, Alion Dervishi, Sunshine Durant, Lea Faoro, Judith Feist, Horea Georgescu, Dominique Chastenet de Géry and Audrey Zofchak. March 4, 2016 — April 9, 2016.
The Scent of Rain on Dry Earth. Group show featuring Susan Goethel Campbell, Shane Darwent, Cynthia Greig, Kylie Lockwood, Rachel Meginnes, Catie Newell, Benjamin Teague and Elizabeth Youngblood. With featured artist Laura Makar. January 15, 2016 — February 13, 2016.
Art for the Holidays (2015). November 6, 2015 — December 30, 2015.
The Change We Want To See: Artists Reflect on Detroit Group exhibition by Lowell Boileau, Kate Daughdrill, Matt Eaton, Gregory Johnson, Nicole MacDonald, Katie Grace McGowan & Jon Winet, Nora Chapa Mendoza, Eric Mesko, Mario Moore, George Rahme, Yvette Rock, Stephen William Schudlich and Noah Stephens. Curated by Jeff Cancelosi. September 11, 2015 — October 17, 2015.
We The Vehicles: A Tribute to Detroit Bicycle Culture. July 31, 2015 — August 28, 2015.
The Essential Self: Meditations on the Politics of Identity Group exhibition by JenClare Gawaran, Salwan Georges, Carole Harris, Rashaun Rucker, Tylonn J. Sawyer, Miroslawa Sztuczka, Vito Valdez and Mary Laredo. With featured artist Austin Brady. June 12, 2015 — July 18, 2015.
Abstraction: Artist | Viewer | Dialog Abstract paintings by various artists, sculptures by Ray Katz, even a photograph by Bruce Giffin. May 1 — 30, 2015
College for Creative Studies (CCS) scholarship show. March 6, 2015 — April 11, 2015.
It's Like Toys in Here. January 16, 2015 — February 14, 2015.
Art for the Holidays (2014). November 7, 2014 — December 30, 2014.
Abstraction and Landscape: Contemporary Woodcut. September 12, 2014 — October 18, 2014.
If You Build It, They Will Come. August 1 — 29, 2014.
313 A celebration of Detroit's 313th birthday, with photographers Carlos Diaz, Bruce Giffin, Scott Hocking, Oscar Hoff, Ali Elisabeth Lapetina, Vanessa Miller, Bill Rauhauser, Bill Schwab and Tom Stoye. June 6, 2014 — July 12, 2014.
Metaphysical A one-night exhibition on April 10, 2014 by CCS students Sunshine Faiman, Alice V. Schneider and Fatima Sow.
Biennial All Media Exhibition 2014, including work by Austin Brady, Coco Bruner, Taurus Burns, Bruce Giffin, Steven Padilla, Yvette Rock, Bryant Tillman, Rick Vian. April 18, 2014 — May 23, 2014.
Cranbrook Academy of Art scholarship show. February 28, 2014 — April 5, 2014.
...many more going back to 1932...
External links
News
Alonso del Arte, "Wayne State students impress at Detroit Artists Market schol­ar­ship show", Examiner.com, March 4, 2016.
Lee DeVito, "Detroit Artists Market shows the many sides of Detroit", Metro Times, September 9, 2015.
Alonso del Arte, "Steven Padilla shines at DAM scholarship show", Examiner.com, March 6, 2015.
Alonso del Arte, "Detroit Artists Market celebrates city's 313th birthday", Examiner.com, June 6, 2014.
Alonso del Arte, "DAM features printmaker JenClare Gawaran", Examiner.com, September 14, 2013.
Reviews
Michael H. Hodges, "Show at Artists Market features pop colors, elegance", The Detroit News, May 13, 2015. "With what must have been Herculean strength, Detroit artist and former College for Cre­a­tive Studies professor Lester Johnson wrestled that number down to 38 pieces in this spacious, handsomely hung show."