Home > Artists > Painters > Valerie Mann
Home > Artists > Sculptors > Valerie Mann
Valerie Mann
Painter, sculptor, fashion designer.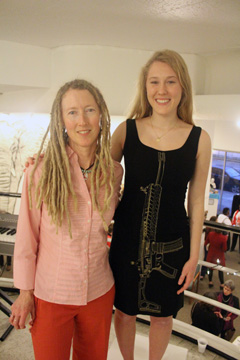 Valerie Mann (left) designed an evening gown seen here worn by her daughter Ellery Hattop at the Swords into Plowshares Peace Center and Gallery. The gown features a depiction of the weapon that was used in a massacre in Orlando, Florida.
Current exhibition
Upcoming exhibitions
Various plans.
Past exhibitions
It's a long list, might compile later.
External links
News
PLACEHOLDER FOR NEWS
Reviews
PLACEHOLDER FOR REVIEWS