Home > Artists > Painters > Jim Nawara
Jim Nawara
Painter, instructor at Wayne State University (WSU), professor emeritus of painting and drawing there.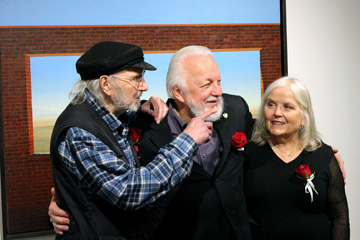 Prof. Jim Nawara (center) with his wife Lucille (right) and a friend at Wayne State University's Art Department Gallery for his solo show there. Photo by Alonso del Arte.
Upcoming exhibitions
Various plans.
Past exhibitions
External links
News
PLACEHOLDER FOR NEWS
Reviews
Ron Scott, "Jim Nawara @ WSU Art Department Gallery", Detroit Art Review, November 15, 2017. "Nawara's Night Garden demonstrates a high level of technical facility with the watercolor medium. He poetically creates the stillness of fallen snow in his wife's vegetable garden, illuminated by a strong floodlight on the back of their studio."