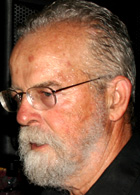 Portrait of Jim Pallas, photo by
Alonso del Arte
.
Home > Artists > Painters > Jim Pallas
Home > Artists > Sculptors > Jim Pallas
Jim Pallas
Painter and sculptor, some of this paintings are endowed with a fascinating 3-dimensionality. Jim moved out of Michigan months ago, having made many important contributions to Michigan's culture.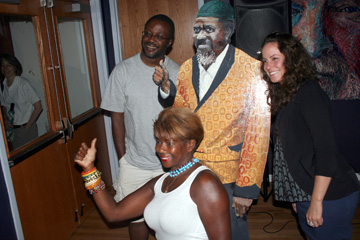 Fans of Thelonious Monk crowd around Jim's Hitchhiking Monk.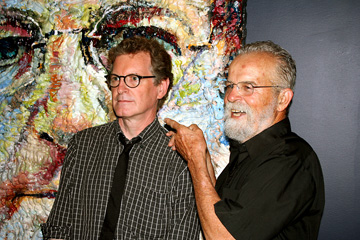 Jef Bourgeau and Jim Pallas at the N'Namdi Center.
Upcoming exhibitions
We will make some effort to keep you apprised of Jim's future exhibitions, wherever in the world they take place, but for the most up to date information, check his official website (linked below).
Past exhibitions
It's a long list going back several years, we'll have to compile it later. Of note is the Art Giants in Detroit series that was showcased at the N'Namdi Center for Contemporary Art in 2012.
External links
News
Reviews
Joy Colby, "Visit to Wayne State's Annual Art Show", The Detroit News, June 21, 1964. "Sculptor Pallas also shows up well in the graphics section with a couple of choice etchings."