Home > Galleries > Detroit > Live Coal Gallery
Live Coal Gallery
80 Clairmount
Detroit MI 48202
5029 Trumbull Street
Detroit MI 48208
Opening receptions were usually on Fridays. Gallery hours at 6513 Woodward are for now on Wednesdays through Saturdays opening at 11:00 a.m. each of those days, closing at 5:00 p.m. on Wednesdays and Thursdays, 6:00 p.m. on Fridays and 3:00 p.m. on Saturdays.
For the first two years, the gallery was located in the Woodbridge neighborhood, close to the intersection of Trumbull and Warren. However, an Americans with Disabilities Act (ADA) compliance waiver for the gallery's Trumbull location expired in September 2015. Owner Yvette Rock had still hoped to make the original location ADA-compliant in 2016, although moving to a new location that is already ADA-compliant looked for a time more likely than before.
Live Coal Gallery was reorganized as Live Coal Arts Mobile, and debuted in that form on April 29, 2016. Then, later that year on December 17, Live Coal Gallery quietly opened in a New Center location, and I believed that would be the new permanent location, but it is clear now that it was just another temporary location. It appears all the temporary locations will be in Detroit, but a suburban temporary location can't be ruled out.
In September 2018, Live Coal announced the Red Children's Art Museum, to open October 10 at 80 Clairmount, in Detroit. It appears that the gallery will not continue as such.
Upcoming exhibitions
Evelyn Hoey, We Felt the Loss of Them: A Daily Recording of Gun Deaths in the USA in 2022. Slated to open July 13, with a reception from 5:00 p.m. to 8:00 p.m., and run to August 3, with a gallery talk that day.
Past exhibitions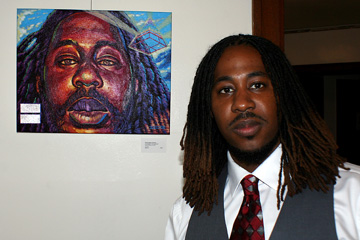 Christopher Batten with a self portrait.
At various locations
M. Saffell Gardner salon trunk show. June 7, 2023 — July 6, 2023.
Contemporary to Abstract, Ron Clegg. May 11, 2023 — June 1, 2023.
A View with a Skew: Experiments in Gesture & Exaggeration, Mark Schumack. April 6, 2023 — May 6, 2023.
Formidable Formaldehyde, Tia Nichols. March 2 — 30, 2023.
He Is Clover, Sabrina Nelson. January 26, 2023 — February 23, 2023.
The Collective Spirit, M. Saffell Gardner, Stanley Larry, Sabrina Nelson, Tia Nichols, Michael Reid, Lisa Rivera, Yvette Rock, and Mark Schumack. November 17, 2022 — January 12, 2023.
The Center of Now, Lisa Rivera. October 2, 2022 — ??? ??, 2022.
now. more. again., Patrick Barber. June 24, 2022 — August 24, 2022.
Headspace: Artistic Inspiration from the Pandemic, Karin Gaston, at 3000 Fenkell. November 10, 2021 — December? ??, 2021?
Bold Moves, Darius Baber, Nia Crutcher, Jean Alicia Elster, M. Saffell Gardner, Mara Magyarosi-Laytner, Arise Rock, Yvette Rock, Jaicha Smith, at 5214 Avery, Detroit. December 6 — 30, 2019.
Through My Eyes, Nia Crutcher, Arise Rock, and Jaicha Smith, at 80 Clairmount, in Detroit. July 19, 2019 — November? ??, 2019.
Yvette Rock and Darius Baber, at Andy, 3000 Fenkell, Detroit. June 28, 2019 — July 26, 2019.
Postcards from Italy, Mara Magyarosi-Laytner et al, at 80 Clairmount. May 24, 2019 — June 21, 2019.
6th Anniversary Celebration, Darius Baber, Nia Crutcher, Jean Alicia Elster, Saffell Gardner, Mara Magyarosi-Laytner, Arise Rock, Yvette Rock, Jaicha Smith, at Andy, 3000 Fenkell, Detroit. April 26, 2019 — June 7, 2019.
Hyperstimulation, Mara Magyarosi-Laytner, at 82 Clairmount, Detroit. March 22, 2019 — April 20, 2019.
An Effervescent Universe of Stitched Phenomena, Dolores Slowinski, at Detroit Fiber Works. May 12, 2018 — June 30, 2018.
Brightmoorians, drawings by Mark Schumack, at Always Brewing. April 27, 2018.
Drawings by Dolores Slowinski, at the Pages Bookshop. July 14, 2017 — August 17, 2017.
Primal Flash, a celebration of Live Coal Gallery's 4th anniversary, at Always Brewing. April 21, 2017 — May 20, 2017.
Drawings by Mark Schumack, at the Pages Bookshop. Opened March 23, 2017 — April 22, 2017.
Enigmatic Sweep, Espacia Foțiu, at North End. February 2 — 25, 2017.
On December 15, 2015, at Woodbridge Pub, Live Coal had a special event to raise funds for the re-opening. I have not kept track of exhibits at the Mobile.
At the original location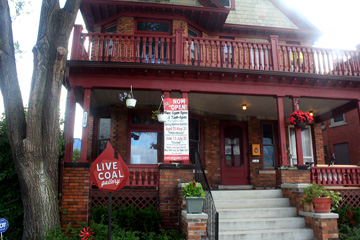 The gallery in its original location, July 2014.
in the blink of an eye Featuring photography by Bruce Giffin, Scott Hocking, Sherry McLaughlin and Rashaun Rucker. June 5, 2015 — July 26, 2015.
Memories?
A Tribute to Rosa Parks & Gilda Snowden, including paintins by Gilda Snowden. January 16, 2015 — February 6, 2015.
Refractions, paintings by Christopher Batten and Senghor Reid. October 24, 2014 — November 25, 2014.
Detroit rePatched, Phase 1 Mixed media work by Yvette Rock. September 19, 2014 — October 17, 2014.
Raveled Fiber work by Kelly Darke and Sarah Mark. June 13, 2014 — July 26, 2014.
Pattern-Makers Work by M. Saffell Gardner and Gilda Snowden. April 25, 2014 — May 31, 2014.
Home Work by Candace Pappas. February 7, 2014 — April 12, 2014.
Texture Intertwined Work by Kelly Darke and Maria Soledad Jofre. April 26, 2013.
Modern Impressionists Work by Senghor Reid, Gilda Snowden, Antoinette Conner. June 14, 2013.
Doorways to Detroit Work by Rashaun Rucker, Stanley Larry, Mohan Karulkar. September 6, 2013.
Hope + Detroit Work by Colin Darke and Yvette Rock. October 11, 2013.
Holiday Sparks! December 6, 2013.
External links
News
Alonso del Arte, "Live Coal Gallery to close for a year after Friday", Examiner.com, July 30, 2015.
Michael Hodges, "Two small venues beckon", The Detroit News, April 2, 2015.
Cecilia Sanchez, "Live Coal Gallery presents Refractions in WSU backyard", The South End, November 20, 2014.
Alonso del Arte, "Chris Batten and Senghor Reid exhibit at Live Coal Gallery", Examiner.com, October 24, 2014.
Rochelle Riley, "Art in her residence: Detroiter opens space in her house to give museum a home", Detroit Free Press, July 7, 2014.
Reviews
No reviews yet.