Portrait of Robert Sestok, painting by
Jim Pallas
.
Home > Artists > Illustrators > Robert Sestok
Home > Artists > Sculptors > Robert Sestok
Robert Sestok
A leading artist of the Cass Corridor movement, regarded as one of the art giants of Detroit. Owner and director of City Sculpture. Kresge Fellow in the Visual Arts 2017.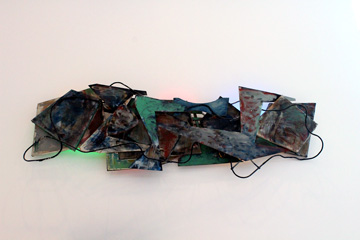 Rock and Roll, one of Robert Sestok's sculptures at Cobo Center.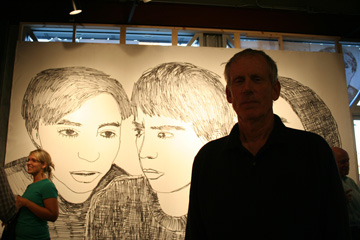 A big portrait of Nicole by Robert.
Current exhibitions
Art at the Max VI at the Max M. Fisher Music Center, 3711 Woodward, Detroit. Opened October 17.
Even when he's not exhibiting in a gallery, there are several different places in Detroit where you can see Bob's work, the most obvious one being the concentration of his sculptures at City Sculpture. Other public places to see his work include Cobo Hall and the main Wayne State University campus.
Upcoming exhibitions
Various plans.
Past exhibitions
The following list consists of only his most recent exhibitions. So a lot has been left out.
Edition 18 at Simone DeSousa Gallery. November 30, 2018 – December 23, 2018.
Off the Press, with Kathryn Luchs and Michael Luchs, at Simone De Sousa Gallery. July 28, 2018 – August 18, 2018.
...many more, going back decades...
On September 6, 2019, Robert gave a presentation at MOCAD.
External links
News
Sarah Rose Sharp, "Robert Sestok debuts a new mural with the opening of Third Man Records' production floor", Metro Times, March 1, 2017.
Michael H. Hodges, "Bob Sestok creates powerful mural for Third Man Records", Detroit News, February 23, 2017.
Mike McGonigal, "Robert Sestok unveils the enormous City Sculpture Park", Metro Times, July 8, 2015.
Michael Hodges, "Sculptor creates art park in Detroit", The Detroit News, June 8, 2015.
Alonso del Arte, "Big paintings at DAM impress", Examiner.com, September 15, 2012.
Reviews
Sarah Rose Sharp, "After Years of Battling Gentrification, an Artist Opens a Sculpture Park in Detroit", Hyperallergic, July 16, 2015.
Joy Colby, "Robert Sestok: a man for all mediums", The Detroit News, May 17, 1987. "Whatever his reasons for remaining in Detroit, his works says his decision was a wise one. Exhibits don't get much better than his current solo, in which everything he has done before come together."
Joy Colby, "Sums greater than the parts", The Detroit News, November 6, 1977. "Sestok is one of the most interesting artists in the metropolitan Detroit area and this solo is his best to date."