Home > Galleries > Detroit > Baby Grand
Baby Grand
3840 W. Lafayette Blvd.
Detroit MI 48216
There really are no gallery hours to speak of, this is a gallery run out of someone's house. You can call (612) 805-0288 for an appointment, but your best bet is to go to the opening receptions. The exhibition space is essentially the living room, which has a baby grand piano (hence the name).
Upcoming exhibitions
Not sure. The owner has talked about closing it down permanently for since early 2016.
Past exhibitions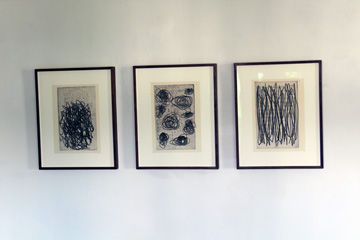 Artwork by Aron Gent at Baby Grand, in what now seems to have been the next-to-last exhibit at the place.
It Runs Deep, Romain Blanquart, Amber Locke, Kylie Lockwood, Nikolas Pence, Scott Reeder, Daniel Sperry, Audra Wolowiec, Margo Wolowiec, Alivia Zivich. August 20, 2016 – ???.
Aron Gent solo show. April 16, 2016 – June 18, 2016
Maha Saab solo show. January 16, 2016 – March 12, 2016
Peter Amdam solo show. October 3, 2015 – November 21, 2015.
New works by Tyson Reeder. Opened July 25, 2015.
Jeffrey Tranchell solo show, opened May 30, 2015.
Nathan Coutts solo show, opened April 18, 2015.
There was an exhibit at CircaModern in Chicago that opened on July 15, 2017, said to be a Baby Grand exhibit.
External links
News
No news yet.
Reviews
No reviews yet.