Home > Galleries > The Butcher's Daughter
The Butcher's Daughter
318 W. 142nd
New York NY 10030
4240 Cass Suite #111
Detroit MI 48201
??? ????
Ferndale MI 482??
This gallery, founded by Monica Bowman, started out in Ferndale, then moved to Detroit for about a year before ultimately moving to New York.
Upcoming exhibitions
Not sure.
Past exhibitions
Past exhibitions in New York
Except when they include Michigan artists, this gallery's past exhibits in New York are generally not of interest as far as this website is concerned.
I haven't kept good track of this gallery, looking at past Art Detroit Now newsletters might reveal exhibits I've neglected to list. The following is a very incomplete listing.
Past exhibitions in Detroit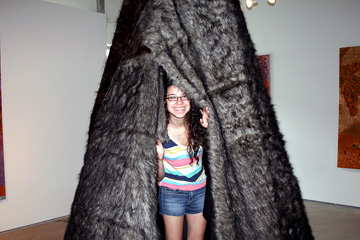 Marissa Livingston in Robert Platt's piece Eidolon at The Butcher's Daughter.
Past exhibitions in Ferndale
External links
News
Reviews
PLACEHOLDER FOR REVIEWS