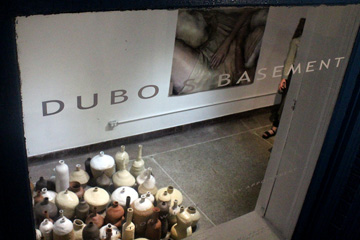 This window is on your left as you go down the stairs to Dubois Basement.
Home > Galleries > Detroit > Dubois Basement
Dubois Basement
3583 Dubois
Detroit MI 48207
This gallery is in a space that used to be some kind of convenience store, in the basement of what was presumably an apartment building.
Located in one of the more desolate stretches near Eastern Market, you might worry that you made some kind of mistake with the address. The window labeled "Dubois Basement" might not be readily visible from the street.
The exhibition space is quite small, but perhaps it could be expanded, perhaps doubled, by removing one wall.
Upcoming exhibitions
Clay Archive: Norway, Lindsey Dezman. Slated to open June 29 and run to July 15. E-mail the artist to schedule a viewing.
Past exhibitions
The following list is probably incomplete.
Show Us Some Love. February 14 & 15, 2020.
Everywhere — Michelle Branch, Clare Gatto and Anjuli Wright. May 5, 2018 – ??? ??, 2018?
Theories, Keith Larmo. September 28, 2017 – October 14, 2017.
External links
News
No news yet.
Reviews
No reviews yet.