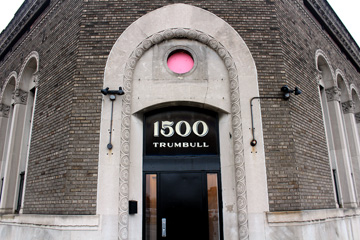 The main entrance to the gallery.
Home > Galleries > Detroit > Reyes Finn
Reyes Finn
1500 Trumbull
Detroit MI 48216
Gallery owned by Terese Reyes and Bridget Finn. Regarded as the next iteration of Reyes Projects, which was in Birmingham.
Gallery hours are Tuesdays through Saturdays from noon to 6:00 p.m.
Apparently, Reyes Finn doesn't exist anymore as of September 2023. It has apparently transformed into Reyes Minn and moved to 2714 Riopelle. I haven't verified this yet.
Current exhibition
Get Together, several artists. Opened February 25 and slated to run to May 6. Navjeet Kaur will do a performance on April 22 at 5:00 p.m.
Upcoming exhibitions
How To Be a Human Being, Anjuli, Nicole Cherubini, Joanne Greenbaum, Patrice Renee Washington. Not sure what's going on with this one.
Past exhibitions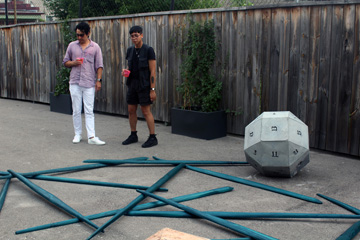 Two artists look at a sculptural installation by Dmitri Hertz in the "backyard" of Reyes Finn.
Waves, Leif Ritchey. October 27, 2022 — December 17, 2022.
Espers, Rafael Delacruz. September 10, 2022 — October 22, 2022.
Farmers and Reapers, Nick Doyle. June 4, 2022 — July 6, 2022.
Sail, Maya Stovall. April 16, 2022 — May 28, 2022.
Practice, James Benjamin Franklin. January 15, 2022 — February 26, 2022.
Shuddering, Chris Schanck. September 26, ??? 2021 ???? — November 28, ??? 2021 ????.
January 10, 2020 — March 7, 2020:

Paved Paradise, Nick Doyle.
Mike Cloud and John Riepenhoff.

November 8, 2019 — December 21, 2019:

A site-specific installation by Nikita Gale.
Subspace Envoy, Phillip Birch.

September 13, 2019 — October 26, 2019:

Machine, Maya Stovall.
Skirting Legibility, Yevgeniya Baras.

James Benjamin Franklin and Marcellus Armstrong. Also debuted two outdoor sculptural installations by Dmitri Hertz and Nick Jaskey. July 20, 2019 — August 30, 2019.
Senior Coconut, Rafael Delacruz, Eddie Martinez, Gerasimos Floratos. March 15, 2019 — May 11, 2019.
External links
News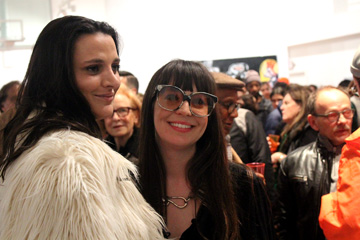 Terese Reyes and Bridget Finn at the grand opening.
Ryan Patrick Hooper, "Corktown gallery Reyes Finn is latest arts exhibitor working in Detroit", Detroit Free Press, March 14, 2019. "Formerly home to Casa Maria Family Services, the new location at 1500 Trumbull Avenue will integrate the character of its former tenant — the basketball court and crown moldings are staying — into the design of the gallery. With 24-foot ceilings and large windows welcoming an abundance of natural light, Reyes Finn's new location is equipped to display large-scale sculptural works and paintings."
Reviews
PLACEHOLDER FOR REVIEWS