Home > Artists > Painters > Peter Daniel Bernal
Peter Daniel Bernal
Painter, muralist. Kresge Fellow in the Visual Arts 2021.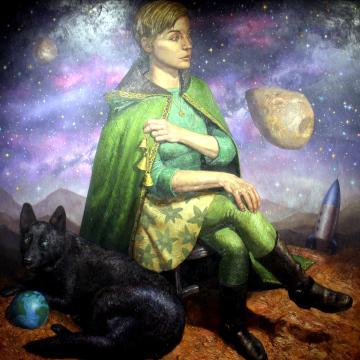 Linden, Argos, Phobos and Deimos by Peter Daniel Bernal.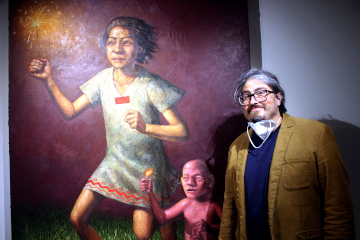 Peter at Hatch Art. Photo by Alonso del Arte.
Upcoming exhibitions
Various plans.
Past exhibitions
No True Mexican at Hatch Art. November 12, 2022 — December 10, 2022.
Plus One, with Chris McInniss and others, at 333 Midland. October 29, 2020 — November 28, 2020.
Natural / Automatic at Janice Charach Gallery. January 12, 2020 — ??? ??, 2020?
The Works at 333 Midland. December 7, 2019 — January 5, 2020.
Uprising at Hatch Art. November 2 — 30, 2019.
Space Shadow Animal at Galleri 2987. May 5, 2018.
...several more...
External links
News
PLACEHOLDER FOR NEWS
Reviews
Scott Campbell, "Studio Visit: Peter Daniel Bernal", Ford Curatorial Fellow Blog. "Heavily influenced by the New Leipzig School, Bernal is a dedicated practitioner of figurative painting, attracted to the immediacy and directness of expressing the human condition that it affords. His socio-realist style of painting also incorporates elements from Pop-Art, comics, and the "sculpto-pictoramas" made famous by Red Grooms, leaving the viewer with something that feels both traditional yet innovative. And even though he is staunchly in the figurative camp, Bernal's fascination with the pure materiality of paint itself is evident in the thick application, expressive brushstrokes, and luscious color that pervade his work."
Saylor Soinski, "125 Peter Daniel Bernal", Essay'd, May 25, 2019. "As Bernal paints, his brushstrokes build and blend to create depths and massed textures that he slowly, iteratively reshapes and repaints. His figures, often draped over each other in acts of care, violence, or some combination of the two, rise from the canvas. Through the vivid, evocative imagery he creates during this assiduous process of layering and scraping away, Bernal centers his practice in the intersection of his own identity and the broader politics of cultural heritage and masculinity."