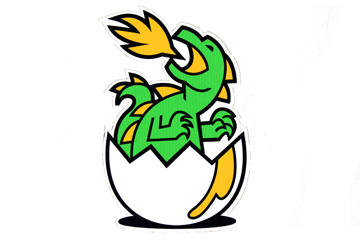 The Hatch Art logo shows a hatching dragon.
Home > Galleries > Hamtramck > Hatch Art
Hatch Art
3456 Evaline
Hamtramck MI 48212
The collective that runs Hatch was formed in 2006. The next year, they were granted 501(c)3 nonprofit status, and the year after that they purchased what was once a police station. Renovation work continued through 2012, but a detention cell still retains some of its old furnishings, and is used to show artwork.
There is a classroom and a "community darkroom" somewhere in the building. The second floor consists of studio space, though at least on one occasion the forward room of the floor has been used for an art installation that went out the window onto the façade of the building.
Opening receptions are usually on Saturday evenings, then gallery hours are on Saturdays from 1:00 p.m. to 6:00 p.m. There is usually a gallery talk for each exhibit, on the second or third Saturday the exhibit is up. At some point they added Wednesday gallery hours, from 6:00 p.m. to 9:00 p.m.; I would call ahead to make sure.
Upcoming exhibitions
Hatchback 16. Tentatively for April.
Happy, Carefree, and Gay, an exhibit sponsored by Mighty Real / Queer Detroit, Robbie Aaron, Seuil Chung, Michael Connelly, Andrea Costantini, Cyrah Dardas, Gary Eleinko, Michael Gute, Bryan Hoffman, Tom Livo, Maura Latty, Matthew Papa, Gordon Price, Julie Sabit, James Stephens, Jeremy Tacon-Heaslip, Joyce Tinkham, Charzette Torrence, Kevin Weeder, and Vagner Whitehead. Slated to open June 4, with a reception from 5:00 p.m. to 9:00 p.m., and run to June 25.
Peter Daniel Bernal. Tentatively for November.
Kim Fay and Adrian Hatfield. With Luke MacGilvray in the Jail Cell. Tentatively for March (originally slated for September of last year).
Luzhen Qiu and Cathy Jacobs. Originally slated for October of last year, not sure if it was postponed or canceled.
Boisali Biswas. Tentatively for May (originally slated for November of last year).
Hatchtastic. Tentatively for December.
Lindsey Dezman. Once slated for November 2018, now presumably canceled.
Russell Prather. With Anthony Brazeau in the Jail Cell. Originally slated for May 2020.
LGBQT Show. Originally slated for June 2020.
Say Their Names and Hatchback XIV have been turned into "virtual exhibitions" on the gallery's website.
Past exhibitions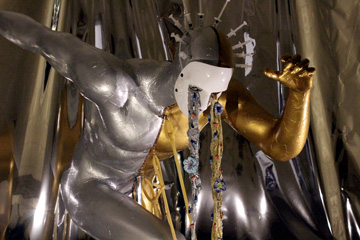 Duality of Fact by Luke MacGilvray.
The coronavirus pandemic of 2020 has caused major disruptions to gallery scheduling. Despite efforts for an accurate listing, there may be mistakes in this listing, especially for 2020 and 2021. Hatchback XIV and Hatchback XV were turned into "virtual exhibits."
The Art of Not Giving Up, Keto Green. May 7 — 28, 2022.
There's nothing so bad that it can't grow worse, Ryan Standfest. March 5 — 26, 2022.
Past/Present: 5 Detroit Perspectives, Julian Bibb, Don Hudson, Ben Nowak, Amy Sacka and Andy Shields. February 5, 2022 — February 26, 2022. With Proceed to Route, an installation by Mary-Ann Monforton, in the Jail Cell.
Brian Nickson. August 28, 2021 — September 25, 2021.
A Tree is a Wild Thing, new sculpture by Doug Cannell. Feburary 6 — 27, 2021.
Amy Sacka. With Linda Allen in the Jail Cell. July 11, 2020 — August 1, 2020.
Home Influences, Sasha Corder, Samar Bazzi, Damon Chamblis, Sunshine Durant, Carl George, Tom Livo, Eli T. Mond, Amanda Shaltis. March 7 — ??? 29 ????, 2020.
A Fun, Big Mess, Jide Aje. With Jeff Schofield in the Jail Cell. February 8 — 29, 2020.
Being Rooted, Madhurima Ganguly, Jennifer Belair Sakarian. January 11, 2020 — February 1, 2020.
Uprising. November 2 — 30, 2019.
Somewhere Else, Jide Aje, Sanda Cook, Judith Feist, Samah Kthar. October 5 — 26, 2019.
Domestic Wilds, Anne Hughes, Teresa Petersen. With Luke MacGilvray in the Jail Cell. September 14 — 28, 2019.
Structural Elements: Contemporary Book Arts, Erin K Schmidt, Laura Beyer, et al. An exhibit of handmade books. With Leg Room by Feather Chiaverini in the Jail Cell. August 3 — 31, 2019.
Personal Mythologies, Peter Bernal, Alana Carlson, John Finazzo, Linden Godlove, Anita Schmaltz, John Wood. July 6— 27, 2019.
Uncurated Self, Jen Fitzpatrick, Waleed Johnson, and Linda Ward. With Joshua Gaudette in the Jail Cell. June 8 — 22, 2019.
Happy Accidents, Andy Malone. May 4 — 25, 2019.
Hatchback 13, with juror Melanie Chard (owner of M Contemporary Art in Ferndale). April 6 — 27, 2019.
Jeff: By Any Means Necessary, Seamus Gallagher. March 9 — 29, 2019.
Bright, Bold, and Beautiful, Gilda Snowden. With Lani Balansang in the Jail Cell. February 2 — 23, 2019.
The Auto Show, Bob Beras and Bruce Giffin. January 5 — 26, 2019.
An Altar for Things Being Felt, Jessica Wildman Katz. December 8 — 29, 2018.
Creature Feature, Catherine Peet. October 6 — 27?, 2018.
Empty Gestures, Scott Northrup. September 8 — 29?, 2018.
A Little of This and a Lot of That, Jack O. Summers retrospective. August 4, 2018 — August 25, 2018.
Group show. July 14 — 28, 2018.
Rediscovered Beauty, Donald Calloway. June 9 — 30, 2018.
Troublemaker, Taurus Burns. Opened May 5, slated to run to May 26.
Hatchback 12, with juror Lauren Semivan. April 7 — 28, 2018.
Evisceration: A Study of Intimacy, Susan Okla and Shannon Morales-Cocina. March 30, 2018.
Shaina Kasztelan and Heidi Barlow. March 3 — 29, 2018.
Girl, U Okay?, Torey Akers and Jessica Hayworth. February 3 — 24, 2018.
Jan Brown. January 6 — 27, 2018.
Seven Houses of the Holy, Carl Wilson. December 9 — 30, 2017.
...missed one or two...
In a New Light, Emilie Beadle, Brian Day and Ryan Weiss. October 7, 2017 — October 28, 2017.
Cabinet of Curiosities, Melissa Jones. September 9 — 30, 2017.
In*Formation: Women in Reflection, curated by Ann Smith. August 5 — 26, 2017.
Beyond Invisible, Sanda Cook, with Luke MacGilvray in the Jail Cell. July 8 — 29, 2017.
Let's Be Realistic, Greg Carr and Jeremy Lassila. June 30, 2017.
Millennial Musings, Caroline Del Giudice and Elise Marie Martin. June 24, 2017.
Anne Garavaglia. June ??, 2017.
As a favor to Whitdel Arts, the 8-Bit exhibit. May 13 — 27, 2017.
Hatchback 11. April 1 — 29, 2017.
Triplicity: A Metaphor in Color, Ash Griskie. February 27, 2017.
A Home Abroad, Ali Lapetina. February 4 — 25, 2017.
...a few others...
There Is No I in Hamtramck, featuring Sanda Cook, Carl Wilson, etc. Curated by Christopher Schneider. Opened October 1 and slated to run to October 29. An artist talk is scheduled for October 22.
...many others...
The oldest exhibits listed on the gallery's website are from 2006.
External links
News
PLACEHOLDER FOR NEWS
Reviews
PLACEHOLDER FOR REVIEWS