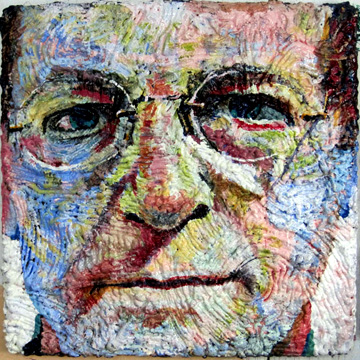 Portrait of Jef Bourgeau, painting by
Jim Pallas
.
Home > Artists > Painters > Jef Bourgeau
Jef Bourgeau
Painter, regarded as one of the art giants of Detroit, founder of the Museum of New Art.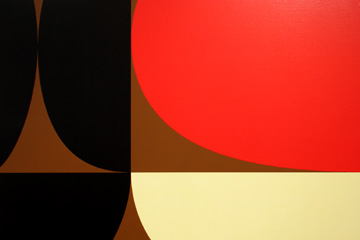 Detail of a painting by Jef Bourgeau.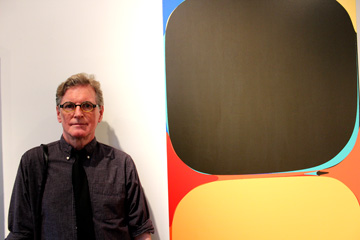 Jef Bourgeau with one of his paintings at Galerie Camille.
Upcoming exhibitions
Various plans.
Past exhibitions
This Is Tomorrow Calling at Robert Kidd Gallery. November 1, 2019 — December? ??, 2020?
Waking Up In a Rainbow, with Jessica Hopkins, at Galerie Camille. May 11, 2018 — June 23, 2018.
Domain Art & Design at Galerie Camille. June 15, 2017 — July 15, 2017.
Holiday group show at Galerie Camille. December 16, 2016 — January 14, 2017.
Intersection with Matt Eaton at Galerie Camille. Opened July 15, slated to run to August 5.
...many more...
It's a long list. The most recent past exhibit was Zombie on the Wall at Galerie Camille in 2015. Jef's own website (not presently up) had a list going back to 1990 but stopping at 2011. This was the case in 2015 and is still the case in 2016.
External links
News
It was old news in 2014, but Issue 6 of ZIPR magazine in 2015 has brought it back up to the surface: in 1999, Jef was hard at work putting the finishing touches on a major exhibit of his work at the Detroit Institute of Arts (DIA). There were concerns that Jef's artwork could be considered offensive, and Graham Beal, newly installed as director of the DIA, instead of sitting down with the artist to address these concerns, decided to padlock the exhibit, setting up a nasty surprise for the artist. "Museum's new director cancels exhibit" was the headline on Joy Colby's November 20, 1999 Detroit News article.
"Another Art Battle, as Detroit Museum Closes an Exhibit Early", was the November 23, 1999 headline on the New York Times. Jerry Vile in 2015 for ZIPR magazine characterized it as "a case of pre-emptive censorship." When in 2014 it was discovered that in 2012 Graham Beal had gotten a huge pay raise at the DIA, it only confirmed what Jef had known since 1999: that Graham Beal is a greedy coward with no moral integrity.
Despite the glaring lack of leadership at the DIA, Bourgeau remains a staunch advocate for keeping the DIA collection in Detroit, something he has stated many times, such as for example in a June 12, 2013 interview in the World Socialist Web Site.
Reviews
PLACEHOLDER FOR REVIEWS