Home > Artists > Painters > William Harris
William Harris
Painter. Studied at the College for Creative Studies (CCS), apprenticed under painter and illustrator William Henry.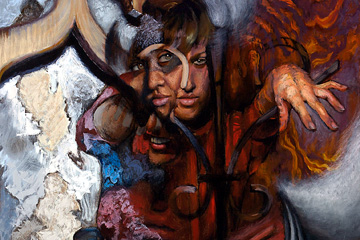 Detail of Totally Serious by William Harris.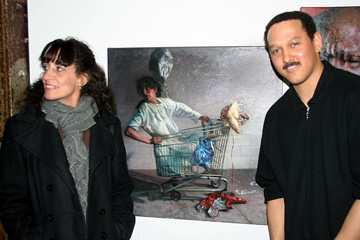 Marie Pinto (left) was the model for Self-Sacrifistasis by William Harris (right).
Upcoming exhibitions
Various plans.
Past exhibitions
Holiday group show at Galerie Camille. December 16, 2016 – January 14, 2017.
Transitions with Brian Day at Galerie Camille. March 11, 2016 – April 2, 2016.
Glimpse: A Preview of 2016 at Galerie Camille. January 22, 2016 – February 19, 2016.
...a few more
The "Alumni" Exhibition, featuring one piece each from almost every artist who's gone through the Red Bull House of Art program. May 21, 2015 – September 7, 2015.
...a few more...
Red Bull House of Art, Cycle 4. April 12, 2013 – July 20, 2013.
...a few more...
External links
News
Alonso del Arte, "William Harris stands out at Red Bull House of Art", Examiner.com, April 13, 2013.
Reviews
Clara DeGalan, ""Transitions" @ the Galerie Camille", Detroit Art Review, March 17. "Harris is a hitherto self-taught painter whose style is in a state of fraught transition, as it becomes overlaid with academic techniques and compositional tropes. His work, at this point, maintains an ardent, romantic floridity and an endearing improvisational use of materials that speaks both to his naiveté and his sincerity. His subject matter involves various experiments in dissolving figural repetitions into cavernous architectural spaces, drawing imagery from Surrealism, documentary images of derelict architectural spaces, and what I can only define as a romantic music video aesthetic."