Home > Artists > Photographers > Brian Day
Brian Day
Photographer specializing in aerial photography, taking advantage of drones. Chief Technology Officer for Henry Ford Health System. Kresge Fellow in the Visual Arts 2021.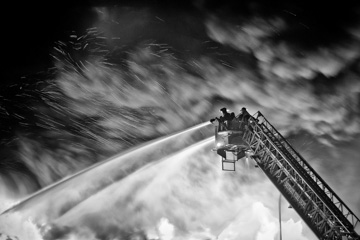 (above) In the air tonight by Brian Day.
---
(right) Flight by Brian Day.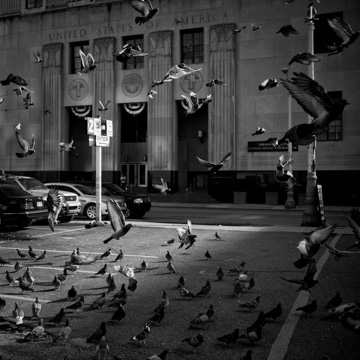 Current exhibition
Even when he doesn't have a gallery exhibition, his work is in display somewhere, as there are, as of 2022, five photographs of his in the permanent collection at the Detroit Institute of Arts.
Upcoming exhibitions
Plus various other plans.
Past exhibitions
A Moment Away at . July 18, 2019 — August 17, 2019.
Photography exhibit at M Contemporary Art. December 8, 2018 — January 12, 2019.
One night pop up exhibition at M Contemporary Art. October 13, 2018.
Detroit From Above at M Contemporary Art. February 16, 2018 — March 9, 2018.
In a New Light, with Emilie Beadle and Ryan Weiss at Hatch Art. October 7 — 28, 2017.
Holiday group show at Galerie Camille. December 16, 2016 — January 14, 2017.
Unmistakeably Detroit at the Savannah Blue restaurant. December 15, 2016 — ??? ??, 2017?
Transitions with William Harris at Galerie Camille. March 11, 2016 — April 2, 2016.
...plus a few more...
External links
News
PLACEHOLDER FOR NEWS.
Reviews
Michael Hodges, "'Detroit from Above' at M Contemporary Art in Ferndale", The Detroit News, February 14, 2018. Brian Day is "one of the most promising" of "a fresh crop of photographers looking to showcase the [Detroit's] offbeat beauty." His photos "are delightfully disorienting."
Clara DeGalan, ""Transitions" @ the Galerie Camille", Detroit Art Review, March 17. "Day ... is a mature artist in full command of his powers. His photographs are fluent masterworks, each finding a balance between content and form that evokes the early Constructivist photography of Alexander Rodchenko. Like Rodchenko, Day grounds his work in a deceptively straightforward, documentary style that speaks simultaneously in a more subversive formal language, conjuring gorgeous abstractions in light and shadow even while capturing candid moments of human passage through urban space."