Home > Artists > Painters > Hiroko Lancour
Hiroko Lancour
Painter, mixed media artist. Likes to incorporate chance and scientific procedures into her artwork. Masters of Fine Art (MFA) from Wayne State University (WSU).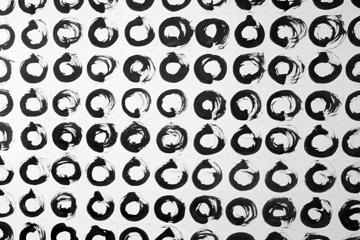 Detail of artwork by Hiroko Lancour created according to the results of several coin tosses.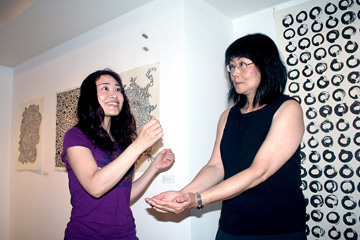 Yamashita Reina tosses a quarter dem­on­strate how she assisted her aunt in her artwork. 2012 photo by Alonso del Arte.
Current exhibition
Upcoming exhibitions
Various plans.
Past exhibitions
Patterns and Symbols at the Northville Art House. October 5 – 27, 2018.
37th Annual Michigan Fine Arts Competition exhibition at the Birmingham Bloomfield Art Center. June 22, 2018 – August 23, 2018
Cones & Rods at Whitdel Arts. June 29, 2018 – July 28, 2018.
Resonance at the Charles Lang Freer House. November 4, 2017.
Actual Size Biennial 2015 at Atrium Gallery. December 12, 2015 – January 23, 2016.
...a few more...
Unbound, MFA exhibit at WSU's Art Department Gallery. February 14, 2014 – March 7, 2014
...many more...
External links
News
Alonso del Arte, "Few art openings in Detroit this weekend after Independence Day", Examiner.com, July 4, 2012 (archived copy).
Reviews
PLACEHOLDER FOR REVIEWS