Home > Galleries > Detroit > Whitdel Arts
Whitdel Arts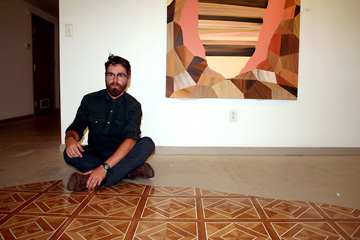 Patrick Maguire with his floor installation at Whitdel in July 2012.
1111 Bellevue
Detroit MI 48207
1250 Hubbard, Suite B1, #112
Detroit MI 48209
Gallery hours are on Saturdays from 12 p.m. to 3 p.m. Opening receptions are typically on Fridays from 7 p.m. to 10 p.m.
The gallery was located in the Whitdel Apartments building, rent-free from Southwest Solutions. In addition to the main space it had an Emerging Artists space.
On February 15, 2014, a racist gallery assistant treated one of the artists in the exhibition at the time in a racist manner. But that's not what caused the expulsion of Whitdel Arts in 2016.
In 2014, the gallery's board refused to disavow the racist gallery assistant. Worse, the board attempted to intimidate the artist into silence with threats, some less veiled than others.
The racist gallery assistant sounded the racist dog whistle of safety, and the board compounded the problem by continuing to frame the issue as one of safety instead of the real issue: an artist exhibiting in a gallery deserves respect in that gallery, regardless of his race.
This incident could have been defused immediately with a real apology and real corrective action (firing the racist gallery assistant). Instead, there was half an apology after the artist suggested to Southwest Solutions that the Whitdel Arts board should pay rent to Southwest Solutions for the use of the space.
The racist gallery assistant was a volunteer. But you can always cut loose volunteers who are doing something they're not supposed to do. The racist gallery assistant's racist behavior would not have been tolerated for long at the DIA, for example.
With hindsight, we can see that the 2014 incident with the racist gallery assistant was just another in a long stream of incidents reported to Southwest Solutions, and that Southwest Solutions, tired of the complaints, ended their generosity to Whitdel Arts in 2016. Quite likely complaints about the Crotch show finally convinced Southwest Solutions to cut Whitdel Arts loose.
Understandably, Southwest Solutions did not want the issue to be framed as one of censorship. People are quick to unthinkingly side with artists in cases of censorship. But here's the thing: freedom of expression of anything is all fine and good, until someone else's distasteful freedom of expression happens on your dime.
The early history of Whitdel Arts is rather nebulous. It seems that in 2009, Southwest Solutions had an understanding with some artists in the neighborhood, but nothing on paper. Attempts to formalize the arrangement seem to have begun with Aaron Timlin talking to Steven Gabrys of Southwest Solutions.
Thus Whitdel Arts was organized as a division of the Contemporary Art Institute of Detroit (CAID). But over time, Timlin handed over operations to a board consisting almost entirely of young white women. Not surprisingly, almost only young white artists exhibited at Whitdel from 2011 forward.
There wouldn't be anything wrong with that if Whitdel Arts had been paying rent and utilities. But Southwest Solutions wasn't charging rent, and was paying for the utilities (water and energy, but no phone or Internet).
In return for this generosity, Southwest Solutions wanted Whitdel Arts to fulfill some sort of community mission. Does anyone even remember what Whitdel's community mission was supposed to be?
Starting in May 2014, Whitdel Arts made various half-hearted attempts to increase diversity in the board and in the staff; this was in response to pressure from Southwest Solutions. But in the end, Whitdel still lacked diversity where it really counts for an art gallery getting free rent in the Mexicantown of a predominantly black city: in the exhibiting artists.
This needs to be perfectly clear: Whitdel Arts was not paying rent, and Southwest Solutions was paying for some of the utilities. It seems that the only utility Whitdel Arts was paying for was the website. This was probably funded in part from donations and in part from the various membership and jury fees that artists were charged to be considered for exhibition (and of course even the most reasonable membership and jury fees tend to draw predominantly white artists).
In early 2016, Timlin tried to regain control of Whitdel Arts. As of July 2017, there has been no public announcement from Southwest Solutions. Some decisive action has already taken place, however, as the Whitdel Arts board has been evicted out of the Whitdel Apartments.
As this was going on, the Whitdel Arts people loved to talk about a "lease agreement" with Southwest Solutions. That is a very clever deception. "Lease" suggests that Whitdel Arts was paying money to Southwest Solutions. If people were aware of the generosity of Southwest Solutions, that would have dampened their eagerness to write letters in support for Whitdel Arts. Misled into thinking that Whitdel Arts was paying some kind of lease, it was easier for people to unfairly demonize Southwest Solutions.
The Whitdel Arts board claims ownership of the "Whitdel Arts" name. This presents no problem whatsoever if Southwest Solutions decides to have the space continue as an art gallery under new management, just rename the damn thing. There are a lot of lessons to be learned from the Whitdel mistake.
Upcoming exhibitions
Applebaum Photography Fellowship Exhibition, Brittany Dickinson, Stephanie Espinoza, Parisa Ghaderi, Vincent Marcinelli, Manda Moran, Nate Mullen, Ebrahim Soltani, Ricky Weaver, Rosamaria Zamarron. Slated to open April 5, with an opening reception from 6:00 p.m. to 8:00 p.m., and run to April 27.
I think that Crotch 2 is a hoax, but given the level of maturity of the Whitdel Arts board, I figured I should hedge my bets and at least mention it.
Past exhibitions
Past exhibitions at the current location
On January 3, 2018, Whitdel Arts announced a "new home" on Detroit's East Side. According to LoopNet as of January 4, 2018, the building has six spaces available for lease, four of which have rental rates of $12 per square foot per year, the other two are "not disclosed."
Ouch!, Jordyn Fishman. March 1 – 23, 2019.
Members' Exhibition 2019. January 18, 2019 – February 16, 2019.
Landed, curated by Millee Tibbs. November 16, 2018 – December 15, 2018.
Boys Will Be Boys. September 21, 2018 – November 3, 2018.
Scott Berels and Ruth Koelewyn. August 24, 2018 – September? ??, 2018.
Cones & Rods, several artists, mostly only white. June 29, 2018 – July 28, 2018.
lay • name • place • reply, Dominique Chastenet de Géry, Ralph Jones, Taryn McMahon, Trevor Naud. June 1 – 23, 2018.
Transparency, Wayne State University photography students. April 27, 2018.
The Bitters 2: "We're F---ed". February 23, 2018 – April 14, 2018.
House Warming. January 12, 2018 – February 3, 2018.
Past exhibitions at other spaces
Baltimore Gallery hosted Whitdel Arts for Emily Freese's Sculpture X exhibit, from October 7 to 21, 2017, with an opening reception on lucky Friday the 13th.
For a while in 2017, Whitdel Arts was at Marygrove College. The "themeless" exhibit opened on July 14, 2017. The Gallery at Marygrove College is in the school's Liberal Arts Building, but given that Marygrove will be shutting down the undergraduate programs, I don't know what will happen to that gallery.
The 2017 members' show opened at Marygrove College on June 16, 2017, with Joe Anthony Myrick as the Emerging Artist.
On May 6, 2017, Hatch Art in Hamtramck hosted a special fundraiser for Whitdel Arts. This was followed the next week with the opening of the 8-Bit exhibit, which ran to May 27. As usual, Whitdel Arts charged each artist a $15 entry fee to consider their work for the exhibit, which runs counter to the Hatch Art philosophy of not charging entry fees. Plus remember that an entry fee tends to discourage non-white artists no matter how small and nominal the fee may be.
The Woodbridge Company is another past benefactor of Whitdel Arts, providing a space on Commonwealth Street on May 13 and 14, 2016, for a solo show by Tisch Mikhail Lewis titled One Year Later.
The Whitdel Arts 2016 Members' Show took place at Inner State Gallery at the originally scheduled date and time of April 15, 2016, from 7:00 p.m. to 10:00 p.m. (it became a one-night show, as that gallery already had Luke Chueh scheduled for the following week), while Julia Maiuri's solo show that would have taken place in the Emerging Artists space took place at Corktown Studios, also on the originally scheduled date but starting at 6:00 p.m.
Past exhibitions in the space provided rent-free by Southwest Solutions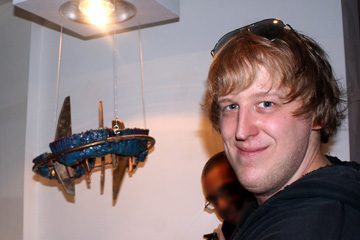 Joe Culver, an artist who exhibited frequently at Whitdel Arts.
Just My Type, an exhibit pertaining to typography. With Mary Laube in the Emerging Artists space. February 12, 2016 – March 26, 2016.
Crotch: Contested Territory, purportedly "a discussion on modern sexuality and changing gender roles," but the title and the sample image instead suggested a desperate attempt to be edgy and relevant. The artists were serious and earnest in their intent to engage in dialogue on this topic, but the exhibit came across as obscene instead, and did nothing to advance discourse of the issue of gender roles. December 4, 2015 – January 23, 2016.
Sculpture symposium exhibition. October 9, 2015 – November 14, 2015.
fall•out, purportedly about "the effects of the Hiroshima and Nagasaki bombings on cultures and society in the seventy years since they took place, as well as their impact on the world today." The show seemed to have an anti-war message and perhaps would have worked better as being generically anti-war. With the most of the artists being white Americans, and apparently none from Japan, the specific Hiroshima concept was suspect. August 7, 2015 – September 19, 2015.
Sensory Overload, with Jennifer Belair in the Emerging Artists space. June 12, 2015 – July 25, 2015.
2015 Members Exhibition, May 1 – 30, 2015
Virtual Insanity, with Austen Brantley in the Emerging Artists space. March 13, 2015 – April 25, 2015.
Full Credit, January 16, 2015 – February 28, 2015.
Day of the Dead Offering to Santo, El Enmascarado de Plata. November 1, 2014 – December 13, 2014.
We Just Want to Make Things September 12, 2014 – October 18, 2014.
2014 Members Exhibition, July 11, 2014 – August 9, 2014
The Deep End, with Sophia Eisner in the Emerging Artists space. May 9, 2014 – June 21, 2014.
The Temporary Show, with Alice Gadzinski in the Emerging Artists space. March 7, 2014 – April 19, 2014.
Gilded, a special tribute to Gilda Snowden, with two students chosen by her, Austin Brady and Fatima Sow in the Emerging Artists space. Curated by Craig Paul Nowak and Alonso del Arte January 10, 2014 – February 22, 2014.
Rotland Dreadfuls. November 1, 2013 – December 7, 2013.
2013 Actual Size Biennial, with Kia Arriaga in the Emerging Artists space. September 14, 2013 – October 19, 2013.
...many more going back to 2010...
Piecing together the list back to 2010, you're probably not going to find another Latino artist, and you'll probably find only two black artists and only one Asian artist. When these issues came to glaring attention in late 2014, Whitdel made token gestures to show a few more Latino artists, like the Local Show (which came and went without being recorded in the list of past exhibitions on the gallery's website; that may have taken place concurrently with We Just Want to Make Things).
The low numbers of black and Latino artists exhibited in the period from 2011 to 2016 are an embarrassment for a gallery located in the Mexicantown of a city that is predominantly black. But then attention faded away and it was back to business as usual: if white artists from the city can't fill up the gallery, seek out white artists from across the country. Now out of the building, the Whitdel Arts board seems determined not to accept any responsibility whatsoever for this failing.
External links
Facebook page (updated much more frequently than the official website)
News
Alonso del Arte, "What Whitdel Arts won't tell you about the situation with Southwest Solutions", Examiner.com, April 13, 2016. (Archived copy available).
Michael H. Hodges, "Detroit's Whitdel Arts explores Hiroshima", Detroit News, August 31, 2015.
Alonso del Arte, "Fleeting time highlighted at Whitdel Arts", Examiner.com, March 8, 2014. (Archived copy available).
Tanya Britt, "Artist Gilda Snowden will be Featured at Whitdel Arts; Jan 10th - Feb 22, 2014", Examiner.com, January 10, 2014.
Alonso del Arte, "Whitdel gets patrons to participate in art", Examiner.com, October 8, 2012. (Archived copy available).
Reviews
---
This page has been validated as XHTML 1.0 Transitional.