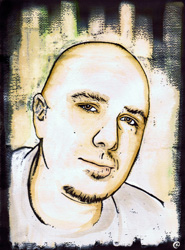 Portrait of John Marroquin, Jr., drawing by
Kelly O'Hara
.
Home > Artists > Illustrators > John Marroquin, Jr.
Home > Artists > Painters > John Marroquin, Jr.
John Marroquin, Jr.
Born and raised in Detroit, John Marroquin, Jr. is proud of his Mexican heritage, with both of his comic book titles, El Mariachi and Masheeka having Mexican themes. John is very active in the comic convention circuit throughout the country, and has had only two formal gallery exhibits so far, but these will likely be first two of many.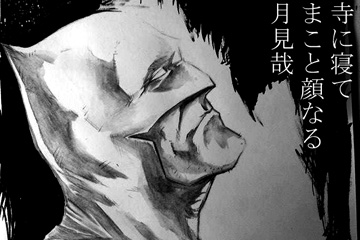 Pairing a pensive Batman with an atmospheric haiku by Basho.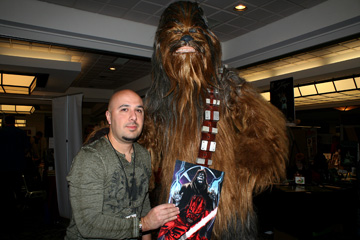 Chewbacca approves of John's Star Wars themed print.
Upcoming exhibitions
Working title: "Blue Harvest", 2020, gallery TBA.
Plus various other plans.
Past exhibitions
The Empire Starts Back at Atomic Cafe. November 9, 2019.
Tailgating: A Celebration of Football Fans at the Galleria of the Detroit Public Library. October 18, 2016 – January 21, 2017.
Day of the Dead at St. CeCe's (pop-up). Last two weeks of October 2015.
Group show at Start Gallery. October 10, 2015.
Superheroes & Villains at St. CeCe's (pop-up). August 14, 2014.
Haiku at 555 Gallery & Studios, August 1 – 16, 2014.
External links
News
Dave Herndon, "'Mariachi' creative team to be at Michigan Comic Expo this weekend", The News-Herald, July 27, 2016. It seems like this article was published a week early. The date for this year's Michigan Comic Expo in Wyandotte is August 6, not July 30.
Alonso del Arte, "Two local artists paint Pabst Blue Ribbon van at Mo Pop Festival", Examiner.com, July 26, 2015.
Alonso del Arte, "9 artists who live in Detroit", Examiner.com, January 6, 2015.
Alonso del Arte, "Local artists succeed at Detroit Fanfare Comic Con", Examiner.com, October 26, 2013.
A little housekeeping note about the Examiner.com articles: Examiner.com was acquires by AXS, a company that eventually decided to shut down Examiner.com. These articles have all been backed up by the author and will hopefully be available soon in some sort of public archive.
Reviews
PLACEHOLDER FOR REVIEWS