Home > Galleries > Detroit > 555 Gallery & Studios
555 Gallery & Studios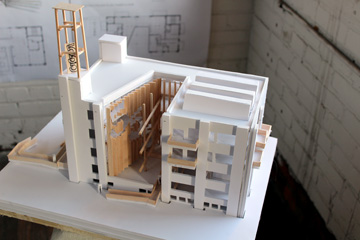 A concept for the future home of 555 by a Lawrence Tech student.
2941 E. Warren
Detroit MI 482??
2801 W. Vernor
Detroit MI 48216
4884 W. Grand River
Detroit MI 48208
Over the years, 555 has had a few different addresses, though none of them have been 555 on any street. For a few years, 555 occupied the old police precinct at 2801 W. Vernor (which is now the home of the Detroit School of Digital Technology).
During that time, 555 showed leadership over nearby galleries in various aspects, such as showcasing local artists, bringing artists from Mexico, and tackling social issues from a position of understanding rather than a position of privilege.
Unfortunately, that was all ignored because of an infamous mural believed to be by the famous British weirdo known as Banksy. More on that later. For now let's just say that the controversial mural did not help 555 pay the rent at the precinct, and helped only a little bit with the current location on E. Warren.
The location on E. Warren will need a lot of work before it can be opened to the public, but 555 will have somewhat of a presence at 1515 Broadway in downtown Detroit during the renovation of the new space.
Upcoming exhibitions
I'm not sure when the first exhibit at the new location will be. However, on May 26, there will be an aluminum casting at noon.
Past exhibitions
On May 6, 2016, architecture students from Lawrence Tech presented "their concepts for 555's future home in the Banner Tobacco Building," according to a Facebook event page. The event took place "in 555's first Detroit home at 4884 Grand River ... New ideas in our old space."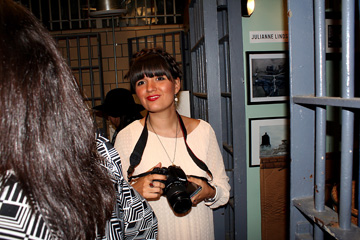 Romina Becker visits Julianne Lindsey's cell studio at 555 in 2014.
On August 26, 2017, 555 hosted an Art Park Open House at the new location.
At the old police precinct, the gallery space was divided in three: the Cafe Gallery was the narrow hallway from the entrance which included the bar, the main space was more rectangular, and there was the easy-to-miss Corridor Gallery, which was best used for artwork that provided its own illumination.
Show Love. January 15, 2015 – February 5, 2015.
Colectivo Cajeme (visiting artists from Mexico). October 9, 2014 – ???, 2014.
Behind the Scenes. September 18, 2014 – ???, 2014.
Haiku. August 1 – 16, 2014.
Austen Brantley solo show. July 5 – 26, 2014.
Bree Gant solo show. June ?26?, 2014.
Carbon Arts (metalsmiths group). May 30, 2014 – ???, 2014.
...a few more in between...
Lighting Fires February 26, 2014 – March 1, 2014.
...many more...
Crucifixion on account of a stupid mural
This saga started in 2010, when the weird and reclusive British artist known as Banksy went on a tour of North America. At about the same time he came to Detroit, his work started appearing in places around the city, never with permission from any of the site owners.
Banksy painted one of his unauthorized murals at the old Packard plant. It seems that the owner of that site at the time had decided that he was going to have the old Packard plant demolished, and it's understandable if Banksy was unaware of this.
Carl Goines, one of the 555 principals, heard about the Banksy mural that was in danger of being destroyed. With other artists, he sprung into action and rescued the mural, bringing it to the old police precinct where 555 was at the time.
But Goines was unaware that fans of grafitti vandals consider it a sacred rule that grafitti vandalism should never be removed from its original location. Many people decided they would never come to any of 555's exhibits just because of the Banksy.
Worse, others questioned Goines's motivation, suggesting he had rescued the Banksy in order to profit from it. So as to drive down the mural's potential cash value, some questioned whether the mural was an authentic Banksy. Two Michigan artists even went so far as to claim that they, not Banksy, were the true authors.
At first, Goines had no intention of selling the Banksy, and it was on view at 555 until 2015. As the gallery fell behind on the rent, Goines decided to sell the mural. Predictably, the critics howled again, claiming they were right about 555 all along.
By that time, the Packard plant site had a new owner, a supposed billionaire who wanted 555 to return the Banksy for free. Understandably 555 said no. Weeks later, the gallery finally got rid of the albatross, auctioning it off for $137,000 at Julien's in Beverly Hills, California. That may seem like a lot of money, but it was hardly enough to renovate 555's new location on E. Warren.
External links
News
Most of the news coverage of 555 has centered on the Banksy.
Reviews
Jim Welke, review of Lighting Fires, artifizz.org, February 26, 2014. "555 Gallery and Studios occupy an old police precinct. Inside you find a spacious gallery with expansive north facing windows. You also find a block of holding cells still decked out in steel bars. If these don't send a chill down your spine, you should check your pulse. But now the cells function as micro studios and galleries. An eclectic array of artwork and craft adorns them."