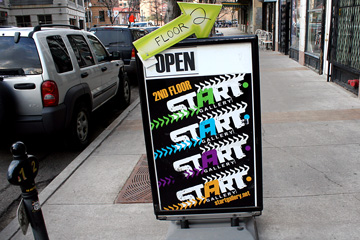 The sign that pointed up to the second floor where Start Gallery was at.
Home > Galleries > Detroit > Start Gallery
Start Gallery
206 E. Grand River
Detroit MI 48226
Gallery owned and directed by Jason Reed, who also runs Klever Design and prints ZIPR magazine. Jason started the gallery when he noticed his friend, Candy Draper, a prolific painter, had dozens of paintings in her house and in storage.
Originally in the Merchants Building downtown, close to the Carr Center, rapidly increasing rent forced the gallery (along with Klever Design and ZIPR) to move out at the end of 2015, and there was talk of moving to a new location, but not much was revealed about that new location.
Now that Jason seems to have gotten comfortable at Corktown Studios, it appears that Start Gallery is closed for good. Jonathan J. Sandberg frequently helped Jason with framing artwork and installing shows.
Past exhibitions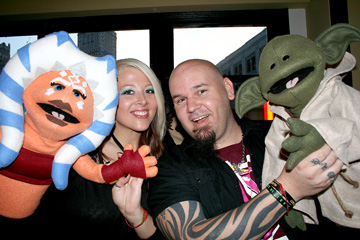 From the Start Wars show, Lin Zy and Matt Busch.
As you can see from the (still incomplete) listing below, Beyond the Machine, an homage to tattoo art, is an annually recurring show at Start Gallery. Star Wars fans are still hoping that Start Wars becomes an annually recurring show as well. So far all past exhibitions have been in the Merchants Building.
Lucy Owen, Beautiful (Indestructible) Women of the Juggalo World. December 4 – 19, 2015.
Something about Pabst. Group show includes John Marroquin, Jr., Christopher Sanchez, Emilie Beadle, Rashaun Rucker, Mark Sarmel, etc. Opened October 10, 2015.
Something about convenience stores. Opened September 18, 2015.
La Femme Botanica. Solo exhibit by Ashley Marie. To expand on the floral theme of Ashley's paintings, there are floral installations throughout the main exhibition space. August 8 – 27, 2015.
Bold Moves, 4th anniversary celebration, featuring works by Dennis Maitland, Kevin McCoy and Jason Reed. May 2, 2015.
...a few more...
Detroit KISS City, an homage to the band KISS. September 20, 2014 – October 11, 2014.
...a few more...
Start Wars, an homage to Star Wars. May 5, 2013 – June 1, 2013.
...one or two in between???...
Beyond the Machine III. February 17, 2013 – ???, 2013.
...a few more...
Beyond the Machine II. February 24, 2012 – March 10?, 2012.
Malt & Tead. February 4, 2012 – February 11, 2012.
...a lot more going back to 2011...
External links
The Facebook page is still up, but, as of November 5, 2019, the most recent post dates back to 2017.
News
Reviews
Sarah Rose Sharp, "A Portrait of the Juggalettes, Insane Clown Posse's Female Fans", Hyperallergic, December 14, 2015. "Owen's work is not just solid, engaging portraiture of inherently dynamic subjects, but also brings a great deal of nuance to a subculture that is easily dismissed on the grounds of goofiness or overt sexism."