Home > Artists > Painters > Richard Seaman
Richard Seaman
Painter, alum of the College for Creative Studies (CCS) and the Florence Academy of Art. Has a studio at Corktown Studios.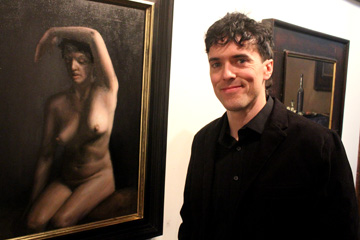 Richard Seaman poses with one of his paintings at Corktown Studios. Photo by Alonso del Arte.
Upcoming exhibitions
Various plans, not yet announced.
Past exhibitions
Outside & In at Corktown Studios. February 23, 2019 – March 2, 2019.
Morality & Mortality, with Brian Skol at Corktown Studios. February 24, 2018.
...a few more...
On August 19 and 20, 2017, Corktown Studios hosted Richard's portrait painting workshop.
External links
News
PLACEHOLDER FOR NEWS
Reviews
PLACEHOLDER FOR REVIEWS