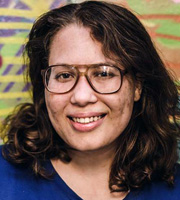 Portrait of Kelly Guillory, photograph by
Amanda Kane
.
Home > Artists > Illustrators > Kelly Guillory
Home > Artists > Painters > Kelly Guillory
Kelly Guillory
Painter and graphic novel illustrator, author of Blood Money: The Road to Detroit. She has been very involved with the Detroit Design Festival from the beginning, and in 2012 was a driving force behind Hopscotch Detroit, a project that broke the world record for longest hopscotch course. Other graphic novels in her portfolio include Odyssey, Transhuman Resources and The Other World; on some of these she also has a writer credit.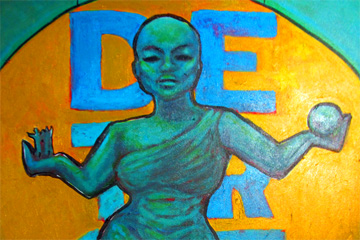 Kelly Guillory's take on the Spirit of Detroit.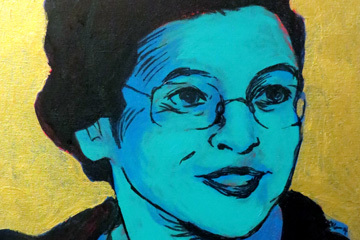 Detail of Kelly's portrait of Rosa Parks which exhibitied at Live Coal Gallery.
Upcoming exhibitions
Unknown.
Past exhibitions
The "Alumni" Exhibition, featuring one piece each from almost every artist who's gone through the Red Bull House of Art program. May 21, 2015 – September 6, 2015.
Red Bull House of Art, Cycle 10. April 24, 2015 – May 16, 2015
A Tribute to Rosa Parks & Gilda Snowden at Live Coal Gallery. October 24, 2014 – November 25, 2014.
Capture: A Dialogue Between Paintings & Photographs at Corktown Studios. February 15 – 22, 2014.
Laerrus at 4731
The Dirty Show in 2013
The In-Betweener at Bottom Line Cafe
...a few more going back to 2009...
External links
News
Alonso del Arte, "9 artists who live in Detroit", Examiner.com, January 6, 2015.
Alonso del Arte, "Local artists succeed at Detroit Fanfare Comic Con", Examiner.com, October 26, 2013.
Ashlie Dunn, "Student finds artistic 'icing on cake' through different mediums, avenues of expression", The South End, March 27, 2013.
Reviews
No reviews yet.