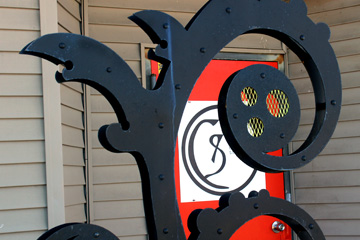 A sculpture by Jake Chidester close to the orange front door to Corktown Studios.
Home > Galleries > Detroit > Corktown Studios
Corktown Studios
2707 14th Street
Detroit MI 48216
Opening receptions are usually on Saturdays, sometimes followed by a closing reception the following Saturday. The major exceptions are the anniversary shows, which occur on the same Sunday as the St. Patrick's Day parade on Michigan Avenue a couple of blocks south.
Located in Detroit's Corktown neighborhood, the gallery also has studio space for a few artists, and was for a long time the home base of the Rogue Satellites band and the Haunted Wood Revue concerts (featuring mostly singing guitarists).
Owned by Alisyn Malek, the gallery had, for the first five years, Lisa Poszywak as artistic director (as of August 2017, a successor was not yet named). Studio holders include Christopher Anderson and Paula Zammit.
After a renovation and expansion project in 2015 was completed, the gallery started looking for new artists to occupy the new studios, eventually adding Amy Fell, Paolo Pedini and Elizabeth Workman to their line-up.
In November of that year, the Knight Foundation named Corktown Studios as a recipient of a matching funds grant for a project to professionally record upcoming Haunted Wood Revue concerts.
Upcoming exhibitions
9th Anniversary Show. Maybe March 14? Strictly conjectural at this point. Unlikely though, given that the 2021 St. Patrick's Day parade is canceled.
10th Anniversary Show. Hopefully March 13, 2022.
Hibernaculum II, three artists. Maybe for April?
Hibernaculum III, three artists. Maybe for May?
Past exhibitions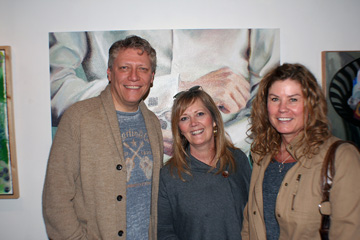 Paula Zammit with the Scillians.
Transport, Brook Banham. November 9, 2019 — December 14, 2019.
Hibernaculum I, three artists. October 5 — 19, 2019.
First We Shape the Tools, Then the Tools Shape Us, Michelle Brehmer, Caroline Del Giudice, Aaron Deshields, Yvette Granata, Megan Grierson, Ryan Herberholtz, Elise Martin, Kevin McCoy, Kristina Sheufelt. September 21, 2019.
Silo, Lucas Myers. August 10, 2019.
Existential Crisis, Jess Tiernan. Opened May 2, but there will be an official reception May 4, from 6:00 p.m. to 9:00 p.m.
Digilogue — A Conversation of Collage Typologies, Jake Chidester and Alisyn Malek. April 13, 2019.
7th Anniversary Show. March 10 — 23, 2019.
Outside & In, Richard Seaman. February 23, 2019 — March 2, 2019.
Summon, Kim Fay. October 13 — 27, 2018.
The Rusty Show, Matthew Lisk and Sara Nickleson. September 22, 2018.
Gone Swimming, Part II, Tom Duimstra, Michael Peoples, Matt Wolcott. August 18, 2018.
Person, Place or Thing, Darcel Deneau, Amy Fell, Melissa Jones. May 19, 2018 — June 18, 2018.
Layers, Christina Fehan. April 7, 2018.
6th Anniversary Show. March 11, 2018.
Morality & Mortality, Richard Seaman, Brian Skol. February 24, 2018.
Links, Paula Zammit. October 28, 2017.
Marat Paransky solo show. June 24, 2017.
Jason Reed solo show. May 13, 2017.
Molly Diana solo show. April 22 — 30, 2017.
5th Anniversary Show. March 17, 2017. For the first time in the gallery's history, this was on St. Patrick's Day, rather than the Sunday before.
New works by Jaye Thomas. October 29, 2016.
Strange New Territory, new work by Paolo Pedini. September 24, 2016.
Wine + Anger, Kim Steiner. August 27, 2016 — September 17, 2016.
Julia Maiuri solo show, relocated from Whitdel Arts. April 13 — 23, 2016.
4th Anniversary Show. March 13 — 26, 2016. As usual, this is a group show for studio holders, a group that now also includes Amy Fell, Paolo Pedini and Elizabeth Workman.
Lawrence Technological University exhibit of architecture grad students. December 11, 2015.
Lisa Poszywak solo show. September 11, 2015 — October 3, 2015.
Kristina Sheufelt solo show. August 15 — 22, 2015.
Oil and Water Paintings by Matt Lewis and Taurus Burns. May 23 — 30, 2015.
Precious Belongings Works by Ashley Meunchen and Nicole Shepherd. April 2015.
3rd Anniversary Show, March 2015.
Yesterday's News New works by Alisyn Malek, October 2014.
Summer Revisited Works by Alaina Plowdrey, April 2014.
2nd Anniversary Show, March 2014.
Capture: A Dialogue Between Paintings & Photographs A group exhibit of paintings and photographs, each paired. Amanda Kane, Kelly Guillory, Alonso del Arte, J. Singleton, Bruce Giffin, Mark Sarmel, Sal Rodriguez, Haneif Katebi, Hamed Habhab, Sanda Cook, Lisa Poszywak. February 15 — 22, 2014.
Running Its Course Works by Christopher J. Anderson, August 2013.
Dirt and Deep Water Works by Paula Zammit, April 2013.
...a few more going back to 2012...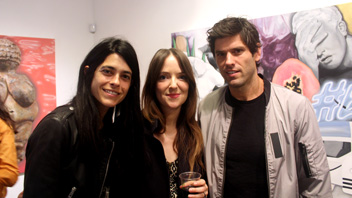 Sara Nickleson poses with J. J. (left) and Anthony Curis (right) at the opening of her show with Matthew Lisk at Corktown Studios.
On February 12, 2016, the studio holders pulled an all-nighter, starting work on a new piece at 7:00 p.m. that night. The following day they hosted the All-Nighter Open Studio. This was not a formal exhibit, and in any case some of those pieces were showcased at the 4th Anniversary Show.
We should also mention the pop-up event at the Jam Handy, a collaboration with the Detroit Drunken Historical Society (DDHS) to celebrate the city's birthday, which took place on Saturday, July 25, 2015. The silent auction included artwork by Barbara Campagna, Alonso del Arte, Oscar Oscar, to name just a few.
The studio holders (Alisyn Malek, Jake Chidester, Lisa Poszywak, Jaye Thomas, Paula Zammit, Christopher Anderson and new member Paolo Pedini) had an exhibit at Cass Cafe that opened on November 7, 2015 and was up until January 24, 2016.
The gallery participated in Noel Night 2015, with musical sculptures. And there was a Rogue Satellites LP release party for the album Bees and Snakes on December 19, 2015.
The studio holders and a few friends had a show at Janice Charach Gallery from May 15, 2016 to June 16, 2016.
On August 19 and 20, 2017, Corktown Studios hosted Richard Seaman for a portrait painting workshop.
The anniversary celebration slated for 2020 was canceled because of the coronavirus pandemic.
External links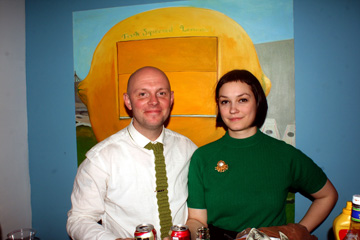 Jaye Thomas (left) and Lisa Poszywak in front of one of her paintings at Corktown Studios.
News
Reviews
No reviews yet.