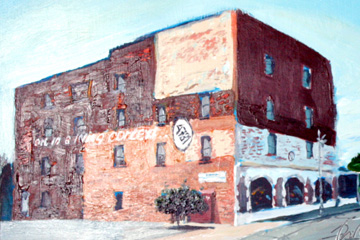 Painting of the 4731 building exterior by Bryant Tillman, who has a studio in the building.
Home > Galleries > Detroit > 4731 Gallery
4731 Gallery
4731 W. Grand River
Detroit MI 48208
The gallery is on the first floor of the building, and there is also a coffee shop on that floor. The higher floors are mostly for artist studios. Very recently this gallery was refashioned as the center of the Grand River Creative Corridor (GRCC), a base for mural artists to paint murals on nearby buildings, mostly on Grand River Avenue. The GRCC also has set up boards on lawns for more outdoor painting.
The gallery was founded by Ric Geyer in 2000. For a few years, Bryant Tillman was the artistic director. One would think that Tillman winning the Kresge Fellowship in 2013 would have made him more valuable to the 4731 management, and that said management would have done everything they could to keep him on as artistic director. But now the gallery is without an artistic director, rudderless, functioning as a rental gallery for which the rental fee probably does not guarantee any basic gallery infrastructure (e.g., proper lighting for the artwork). Given the current state of things, artists considering renting this gallery should seriously consider whether renting a generic space might be more cost-effective.
Upcoming exhibitions
I'm not aware of any formal exhibitions at 4731 coming up. But there is this event coming up on August 27 at 5:30 p.m., which, if I understand the Facebook announcement correctly, is to present Little Free Libraries that have been painted by the following artists: Andy Krieger, Mary Fortuna, John Sauve, Eno Laget, Debora Grace, Mitchell Schorr, Rashaun Rucker, Fatima Sow, Loretta Bradfield, Jesse Kassel, Ndubisi Okoye, Barbara Barefield, Kelly O'Hara, Pam Shapiro, Michael Conger, Donna Conger and Adam Genei. According to the announcement, "the reception has been generously sponsored by ArtNxt.net ... Support has also been provided by Linkage Design." And really, it couldn't happen at 4731 otherwise.
Past exhibitions
It's a long list, which I will attempt to compile at some point. Highlights include the anti-war show, Laerrus and an impressionism show. Each year Tillman hosted a painting invitational. It seems like there's only been one exhibit in the post-Tillman period, something with Red Bull artist Paolo Pedini and his friends.
External links
News
Alonso del Arte, "Artists protest war at 4731 Gallery", Examiner.com, September 22, 2013.
Actually, there was a whole bunch more of those at Examiner.com, with the one listed above just being the most recent. The 4731 topic page at Examiner.com had a lot more; perhaps an archive of those articles will be madea available in the future.
There is one news item from 2014 that we won't be providing an external link for because the reporters left out some extremely important details. This is about the mural on a building close to 4731, visible from the parking lot. It was originally painted by a former 4731 studio holder who goes by "Sintex." Wealthy artist Andrew Pisacane (who calls himself "Gaia" for some reason) painted over Sintex's mural something extremely inappropriate and offensive. Pisacane's mural was supposedly designed to memorialize Vincent Chin, the victim of a heinous hate crime.
But Pisacane's true purpose was to demonstrate he knows more about world history than everyone else, and his mural therefore also included Ludwig Erhard, Sun Yun-suan and Hayato Ikeda, three men who had nothing to do with Chin's murder and whose inclusion in the mural could easily be interpreted to mean that Pisacane is making excuses for Chin's killers.
Sintex then erased Pisacane's offensive mural, revealing the original mural, and then proceeded to paint a new mural on top of that. Soon 4731 money man Derek Weaver put out a statement to the press in order to spin Sintex's deed as some sort of crime against Chin's family. This statement was repeated uncritically by the local media, with no one daring to ask whether a family that lost a loved one to a hate crime would care at all that some privileged kid's mural was painted over.
There has already been so much criticism of Sintex already, most of it automatic and unthinking, that any more of it would be redundant. It almost goes without saying that Sintex no longer has a studio at 4731. As for Pisacane, he has made vague promises to come back and redo the Chin mural. If he does return, he had better come with a different attitude, one more interested in honoring Vincent Chin's memory and less interested in stroking his own ego.
Reviews
PLACEHOLDER FOR REVIEWS