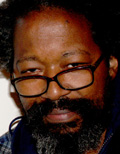 Portrait of Bryant Tillman, photograph by
Alonso del Arte
.
Home > Artists > Painters > Bryant Tillman
Bryant Tillman
Impressionist painter, curator of the 4731 Gallery during its golden era. He also has a fascinating non-Impressionist early body of work that will probably remain obscure for the foreseeable future. 2013 Kresge Fellow in the Visual Arts.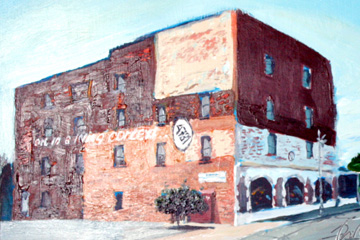 Bryant's painting of the 4731 exterior.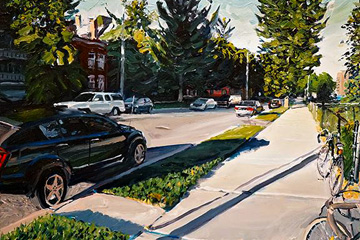 Detail of Bryant's painting Alexandrine.
Upcoming exhibitions
Plus various other plans.
Past exhibitions
Salad Days, curated by Holliday Taylor Martindale at Detroit Artists Market. January 22, 2021 — February 20, 2021.
2020 All Media Exhibition, juried by Hubert Massey, at Detroit Artists Market. January 17, 2020 — February 15, 2020.
Beautiful Brushwork at Pittmann-Puckett Art Gallery. March 2, 2017 — April 1, 2017.
Detroit Biennial 2016 at the Museum of New Art in Armada. October 1, 2016.
We The Vehicles: A Tribute to Detroit Bicycle Culture at Detroit Artists Market, July 31, 2015 — August 28, 2015.
Art X Detroit 2015 Visual Arts Exhibition at the Museum of Contemporary Art Detroit, April 16 — 26, 2015
...a few more...
Detroit: The Geometry of Time, with Bruce Giffin and Jef Bourgeau at the Museum of New Art, May 18, 2013 — June 22, 2013.
...a lot more, going back years...
External links
News
Reviews
Marianne Audrey Burrows, "Reflections with Bryant Tillman", ZIPR, Issue 8, 2015. "There's a richness of light and shadow."
Dennis Nawrocki, "119 Bryant Tillman", Essay'd, February 25, 2019.
Jim Welke, "Detroit: The Geometry of Time, at MONA", artifizz, May 30, 2013. "Mr. Tillman shows things as they are, and leaves it to the viewer to make inferences. But with his virtuoso use of lighting and color, one inevitably sees a more vibrant, fecund reality than what might actually be out there. Or, maybe reality is that vibrant, but we too often see it through jaded eyes, and miss the verdant lushness of the universe that surrounds us."