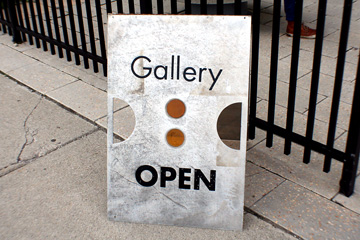 The sandwich board used to announce Re:View Contemporary was open continued to serve that same function for Simone DeSousa Gallery for several months.
Home > Galleries > Detroit > Re:View Contemporary
Re:View Contemporary
444 W. Willis, #112
Detroit MI 48201
This gallery is now known as Simone DeSousa Gallery, after its founder, owner and director, Simone DeSousa. The change of name does not signal a change in ethos or aesthetics.
Let's face it: the old name, despite its eccentric punctuation, was extremely bland, plus it couldn't really help Google rankings. Simone DeSousa Gallery continues the Re:View Contemporary track record for flawless presentation.
The website was changed over very quickly. Facebook and other social media lagged behind for a few weeks. But for most people, the change was easy, since it had always been Simone DeSousa Gallery in their minds.
Past exhibitions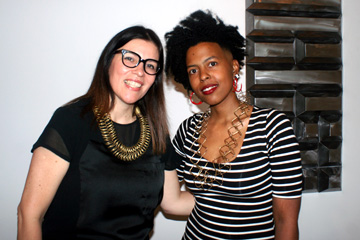 Simone DeSousa and Tiff Massey at Re:View Contemporary during the opening reception for the solo show of the latter.
The More We Get Together Megan Heeres. March 21, 2015 – April 18, 2015.
Are You a Man Matthew Zacharias. January 17, 2015 – February 28, 2015.
Re:Collect 2014 A group exhibit of artists who exhibited at Re:View in 2014, like Katherine Behar and Iris Eichenberg. December 6 – 21, 2014
Tabula Rasa Ed Fraga. October 25, 2014 – November 29, 2014.
The Loss of Either/Or Timothy van Laar. September 6, 2014 – October 11, 2014.
A Heightened State Melanie Manos. July 12, 2014 – August 9, 2014.
Vanity Tiff Massey. June 7, 2014 – July 5, 2014
Recent Works Fernando and Humberto Campana. April 26, 2014 – May 31, 2014.
"We Need More ___________!" Cedric Tai. March 22, 2014 – April 19, 2014.
College for Creative Studies (CCS) exhibit of star students: Austin Brady, Julie George, Austin Kinstler, James Mussat, Brittany Nassar, Kristina Sheufelt, Gabriel Viñas. March 7, 2014.
Ether Sharon Querciagrossa. January 25 – March 1, 2014.
Re:Collect 2013. December 7 – 21, 2013.
Rotations, Susan Goethel Campbell. October 26, 2013 – November 30, 2013.
Potential Artifacts of the Northwest Territories, Graem Whyte. September 7, 2013 – October 12, 2013.
...some more...
Nothingness, Greg Fadell. April 28, 2012 – May 26, 2012.
...many more going back to 2008...
External links
As of October 15, 2018, www.reviewcontemporary.com still redirects to www.simonedesousagallery.com.
News
Alonso del Arte, "Tiff Massey impresses at Re:View Contemporary", Examiner.com, June 8, 2014.
Alonso del Arte, "Gabriel Viñas shines at Re:View Contemporary", Examiner.com, March 8, 2014.
Reviews
Sarah Rose Sharp, "An Artist Turns Invasive Plants into Paper Sculptures", Hyperallergic, April 7, 2015.
Jim Welke, "A Myriad of One :: Simone DeSousa", artifizz, May 17, 2013. "The surfaces of most of Ms. DeSousa's works exhibit an undulating, sensuous texture, which adds to the warmth. None suggest a cold, mechanical topography. You want to touch them, but know you can not. They beckon like temptresses. The three-dimensionality adds to that sensation. The laminated, layered edges suggest growth rings in timber — time passes, layers accumulate during growth, growth implies continuity — organic continuity."