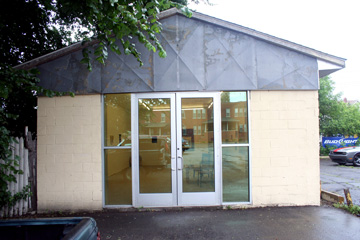 Presumably this was a garage attached to a house. Now it's an art gallery.
Home > Galleries > Detroit > What Pipeline
What Pipeline
3525 W. Vernor
Detroit MI 48216
If you see a taco truck to your left and Giovanna's to your right, then you're on the right track. The gallery is in a free-standing structure with the front door several yards from the sidewalk. It kind of looks like it used to be the garage to a now long gone house.
Gallery hours are on Saturdays from 2:00 to 7:00 p.m. Opening receptions are typically on Fridays from 7:00 to 10:00 p.m., though openings on other days of the week have been known to happen.
In the same June 18, 2018 e-mail announcing the Andrew D. Olivo exhibit, What Pipeline announced "new summer hours": Thursdays through Saturdays from 1:00 p.m. to 6:00 p.m.
Named one of Detroit's best art galleries by Artspace (article linked below). Owned and directed by Daniel Sperry and Alivia Zivich, this is an aggressively avant-garde gallery with an emphasis on European artists.
While it is important to bring international artists to Detroit (and "international artists" ought to also mean artists from Asia, Africa and Latin America in addition to Europe), the focus of this website is on Michigan artists. We will try to keep you informed of What Pipeline's exhibitions in Detroit, but not with as much detail or urgency as with other Detroit galleries.
Current exhibition
Elizabeth Englander, Farah al-Qasimi, Bruno Zhu. Slated to open April 16, with a reception from 5:00 p.m. to 8:00 p.m., and run to June 4.
Upcoming exhibitions
Not announced yet.
Past exhibitions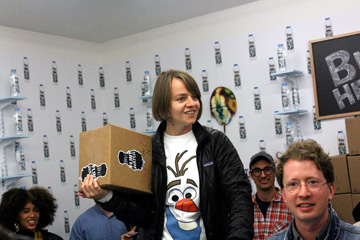 Alivia Zivich, holding up a box of Flint water, listens to someone read the number of the winning ticket of the raffle at What Pipeline. "This is for thinking, not drink­ing," Zivich said of the water.
Israel Aten. October 15, 2021 — December 4, 2021.
Cay Bahnmiller's first posthumous exhibit. June 5, 2021 — July 24, 2021.
Max Brand, Lin May Saeed. September 27, 2019 — November 9, 2019.
Dylan Spaysky. July 20, 2019 — August 24, 2019.
Age 81, Quintessa Matranga. June 7, 2019 — July 13, 2019.
What Pipeline benefit auction, featuring artwork by several artists who've exhibited at What Pipeline before. November 16 — 30, 2018.
Michael E. Smith. September 28, 2018 — November 10, 2018.
Andrew D. Olivo. June 21, 2018 — July 22, 2018.
Reflections, Nolan Simon. November 16, 2017 — December 23, 2017.
Flint Water Project, Pope L. Described as "an art installation, a performance and an intervention," the exhibit consisted of water from Flint, bottled and boxed. Proceeds benefited Hydrate Detroit and the United Way of Genessee County; the latter will work to mitigate the effects of the Flint water crisis caused by the negligence of Gov. Rick Snyder (R). I suppose this puts the whole endeavor above criticism. The project was funded in part by a matching funds grant from the Knight Foundation. Opened September 7, 2017 — October 28, 2017.
The Shrine of Venus, Bailey Scieszka and Valerie Keane. May 12, 2017 — June 17, 2017.
Empires & Enclaves, Matthew Zivich. February 10, 2017 — March 25, 2017.
I Make Tacky, Will Benedict and Katie McKay. Opened November 11, slated to run to December 17.
Mary Ann Aitken. September 23, 2016 — November 5, 2016.
Ever get the feeling we're not alone in this world? June 3, 2016 — July 2, 2016.
Suns Tunnels, Paul Pascal Theriault. April 17, 2016 — May 28, 2016.
The Oily Actor, Olivia Erlanger. February 19, 2016 — March 26, 2016.
Henning Bohl. October 30, 2015 — January 2, 2016.
Marte Eknæs & Nicolau Vergueiro featuring Lisa Sitko. September 12, 2015 — October 17, 2015. Concurrent with this exhibit, What Pipeline had a billboard on the corner of Michigan and Trumbull.
Some artist going by "Puppies Puppies" rather than his real name.
Material Art Fair
Paramount Ranch 2
Tom Humphreys
Sunday Art Fair
Pieter Schoolwerth
Anne Speier
S.O.A.P.Y.
David Leonard
NADA NYC 2014
John Olson
Paramount Ranch
Marte Eknæs & Nicolau Vergueiro
R. Lyon & Jessie Stead
Isaac Pool
Reproduction, consisting entirely of pieces printed out at the gallery from computer files transmitted over the Internet.
Mary Ann Aitken
Lucie Stahl & Tom Humphreys
In collaboration with Kavita Schmidt, What Pipeline had an exhibit at Cave that started on January 21, 2017, and ran to February 18, 2017.
Andrew Kreps Gallery in New York hosted What Pipeline from June 29, 2017 to July 28, 2017 for an exhibit of artwork by Mary Ann Aitken and Dylan Spaysky.
History with the Knight Arts Challenge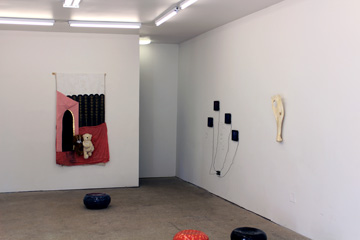 From the June 2016 exhibition.
In 2014, What Pipeline "won" a $15,000 matching funds grant from the Knight Foundation to publish books by or about Detroit-based artists. What a lot of people don't understand about these grants, is that to get one red cent from Knight, a "winner" must first get a matching red cent from another source. But that can be very difficult when there is that headline out there saying you won all this money to do the project and yet you don't do anything right away, besides ask for more money.
At least an organization, even one as small as What Pipeline, is much better equipped than an individual to deal with all the work and headache of a matching funds grant. What Pipeline had, as of July 2015, published two books in the series. On August 29 and 30, 2015, from noon to 8:00 p.m., Nolan Simon painted portraits live at What Pipeline to raise more money for the publication project. People who got portraits painted include local artists James Collins and Greg Fadell.
In 2016, What Pipeline was selected for yet another Knight Arts Challenge matching funds grant, this time to bring an artist, Pope L., to Detroit. A Kickstarter project concluded with $5,803 over the pledge goal.
What Pipeline hosted "an evening with Pope.L in Flint" at MW Gallery in Flint on March 1, 2018.
From April 7, 2018 to May 12, 2018, What Pipeline screened Shakedown, a film by Leilah Weinraub. Then, from May 19 to June 23 of the same year, Park View / Paul Soto in Los Angeles hosted What Pipeline for a Bailey Scieszka exhibit.
External links
News
Rosie Sharp, "Knight Arts Challenge Detroit winner What Pipeline presents new art book, 'Light Stain'", KnightBlog, July 23, 2015.
Alonso del Arte, "Detroit's 10 newest art galleries", Examiner.com, September 3, 2014.
Ella Plevin, "What's up in Detroit? A myth-busting missive", sleek, May 26, 2014.
Reviews