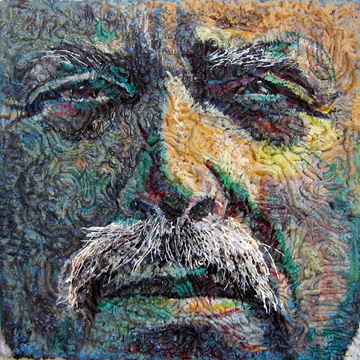 Portrait of Sergio De Giusti, painting by
Jim Pallas
.
Home > Artists > Sculptors > Sergio De Giusti
Sergio De Giusti
Sculptor, former instructor at Wayne State University, regarded as one of the art giants of Detroit.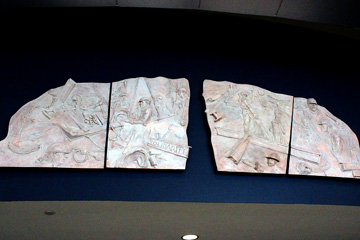 These hydrostone models at the Cobo Center are for the bronze sculptures by Sergio De Giusti at the nearby Hart Plaza.
Current exhibition
Temporale, watercolors and drawings at Galerie Camille. Opened March 6 and slated to run to April 4. There will be a gallery talk on March 28 at 2:00 p.m.
Upcoming exhibitions
Various plans.
Past exhibitions
This is a very incomplete listing.
The Black and White Show at Galerie Camille. November 15, 2019 – December 14, 2019.
2018 Biennial All Media Exhibition at Detroit Artists Market. April 27, 2018 – May 26, 2018.
Doors of Perception at Janice Charach Gallery. October 29, 2017 – December 7, 2017.
...several more going back decades...
External links
News
PLACEHOLDER FOR NEWS
Reviews
PLACEHOLDER FOR REVIEWS