Portrait of Andrew Evans, photograph by
Alonso del Arte.
Home > Artists > Photographers > Andrew Evans
Andrew Ross Evans
One of the most brilliant and methodical photographers in Detroit is also one of the youngest. Highly recommended by Bruce Giffin, Andrew Evans is very skillful and precise in his photos of things and landscapes, but it is in photographing people where his mastery is most evident. His career is one to be watched with great interest.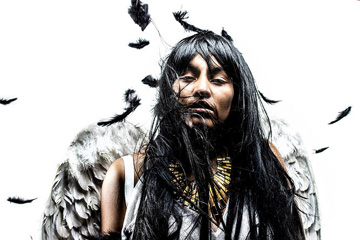 Muse by Andrew Evans.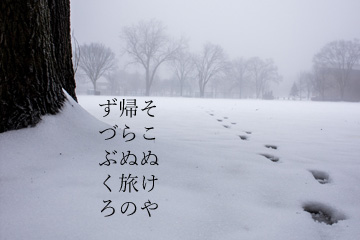 For Haiku at 555, Andrew paired this snowy scene with a haiku by Kyoshou.
Upcoming exhibitions
Andrew will be taking a little break from exhibiting to focus on a couple of new series.
Past exhibitions
Meet the Artists Night, the Beginning of Something New at Holding House. Sponsored by USArt Boutique. December 8, 2018.
American Nightmares at the University of Michigan Detroit Center (sponsored by the Carr Center). November 16, 2018.
Diversity at the Boll Family YMCA, Detroit, Michigan. June 1, 2017 – June 30, 2017.
Black and White, group show at NCA Gallery. November 6, 2015.
Day of the Dead exhibit at St. CeCe's (pop-up). Last two weeks of October 2015.
Black I: Faces, solo show at the Carr Center. April 3 – 17, 2015.
Superheroes & Villains at St. CeCe's (pop-up). August 14, 2014.
Haiku at 555 Gallery & Studios. August 1 – 16, 2014.
External links
Portfolio website (be sure to look at the various categories, especially the portraits category)
News
Alonso del Arte, "Andrew Evans makes an impressive solo show debut at the Carr Center", Examiner.com, April 3, 2015.
Alonso del Arte, "5 Detroit artists 25 or under to watch in 2015", Examiner.com, December 30, 2014.
Reviews
Lori Waxman (60 wrd/min art critic), "Andrew Ross Evans", Metro Times, December 2, 2015. "Here is surreality, but also a bit of Cindy Sherman and Wolfgang Tilmans, and more importantly, here are young people portrayed with such strange grace as to be profoundly moving."