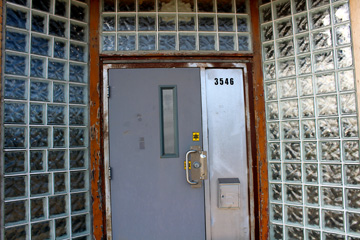 The rather unassuming front door to the gallery.
Home > Galleries > Detroit > Holding House
Holding House
3546 Michigan Avenue
Detroit MI 48216
Opening receptions are typically on Saturdays from 6:00 to 9:00 p.m. As far as I can tell, this gallery does not have gallery hours, but presumably you can call for an appointment. The gallery is on a rather desolate stretch of Michigan Avenue, and the exterior of the building does not really stand out from the neighboring vacant buildings.
The gallery was founded by Andrea Eckert and Adrienne Dunkerley with much help from a Michigan Council of Arts and Cultural Affairs capital improvements grant. Despite bringing the building up to code and polishing it up to be an adequate exhibition space, the place retains a somewhat raw and unpolished look. Thus it would probably be a good idea not to show found object art, since such artwork could be mistaken for trash ignored in the cleanup.
Upcoming exhibitions
Preoccupations: Palestinian Landscapes, Ryah Aqel, Zeina Barakeh, C. Gazaleh, Najib Joe Hakim, Manar Harb, Yazan Khalili, Suhad Khatib, Mary Tuma. Slated to open January 11, with a reception from 7:00 p.m. to 10:00 p.m., and run to February 8.
???Michigan mud 2019 presenters exhibition??? Slated to open October 19, 2019?
Oakland County Community College exhibit. Slated to open April 20, according to the gallery's website. Not sure what happened with this one.
Nicole MacDonald. Slated to open in August, according to the gallery's website.
Faina Lerman. Slated to open August 25, 2018 September 2019?
Levon Kafafian. Slated to open January 20, 2018?
Past exhibitions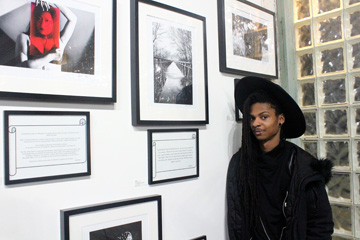 Andrew Evans with some of his photos at the "Meet the Artists" event at Holding House on December 8, 2018.
Beyond Structure, Jayne Appelbaum, Sarah Hua, Danielle Johnston, Chunxiao Lu, Brianna Matway, Cali Novak, Anthony Quitos, Emma Randall. December 13, 2019 – January? ??, 2020?
Declared Dissent, Nicole MacDonald. September 7 – ???28????, 2019.
Los Americanx, Edgar Cardenas. May 3, 2019 – ???May 30, 2019????
Meet the Artists Night, the Beginning of Something New, Jim Ahoo, Glen Allen, Jan Brown, Tim Burke, Sanda Cook, Alphonso Cox, Andrew Evans, Claudia Hershman, Timothy Orikri, Robert Plonka. Sponsored by USArt Boutique. December 8, 2018.
Mount Analogue, Millie Tibbs. October 13, 2018 – November 17, 2018.
Daybreak, Dustin London. July 21, 2018.
Parent Project, Austin Brady, Angelina Davis and Seamus Gallagher. June 9, 2018.
Devices for Filling a Void, Lauren Kalman. April 28, 2018 – May 18, 2018.
Morning Glory, Alecia Hansen, Julia Leone, Stephanie Powers, Sabrina Tarrab, Sadie Trichler. April 14, 2018..
Jonas Sebura and Alex Gartelmann. October 13, 2017 – November 11, 2017.
A Place to Rest the Head, Lindsey Dezman and Jon Geiger. June 17, 2017 – July 9, 2017.
Oakland Community College student and faculty exhibition. May 5 – 19, 2017.
The 4th annual Voices art show. This one showed at the CCS U245 Student Gallery on March 14 before coming to Holding House on April 14.
Transmissions, College for Creative Studies (CCS) juried exhibition. March 18, 2017 (rescheduled after a power outage).
Masked, a group exhibit curated by Lauren Kaulman. February 4, 2017 – March 4, 2017.
To Touch the Sky with Two Arms, Kim Harty and Brian Caponi. October 22, 2016 – December 3, 2016.
Calculating with Absence, Simone DeSousa. April 23, 2016 – June 10, 2016.
Turnover a Spread, featuring Lynne Avadenka, Jean Bartlett, Laura Beyer, Adrienne Dunkerley, Jeffery Evergreen, Antonio Frasconi, Nic and Mina Jerabek, Lee Lee Marchalonis, Bridget Michael, Toby Millman, Chad Pastonik and Ryan Standfest. January 30, 2016 – February 27, 2016.
Double Presence, featuring Emily Duke, Victoria Shaheen and Nathan Tonning. ???, 2015 – October 10, 2015.
Printshow, featuring Cindi Ford, Jeffrey Evergreen, Andrea Eckert, Adrienne Dunkerley and Toby Millman. September 25, 2016.
Holding (Open) House. August 9, 2015.
External links
News
Reviews
PLACEHOLDER FOR REVIEWS.