Home > Artists > Photographers > Bree Gant
Bree Gant
Photographer. Selected for a Knight Arts Challenge Detroit 2016 matching funds grant and a 2020 Kresge Fellowship in Film and Music.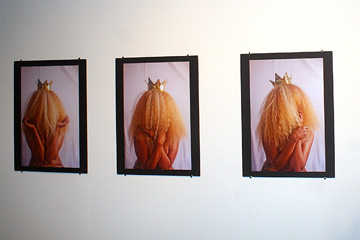 From Lost and Crowned at 555.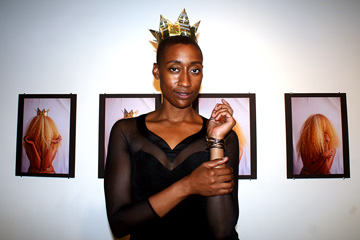 Bree at 555. Photo by Alonso del Arte.
Current exhibition
I'm not sure.
Upcoming exhibitions
Various plans.
Past exhibitions
Griot at the Norwest Gallery of Art. February 13, 2021 — March? ??, 2021.
Crown City, solo show at the Detroit Public Library's Galleria. October 20, 2015 — January 15, 2016.
...a few more...
Lost and Crowned, solo show at 555 Gallery & Studios. June 26, 2014.
...a few more...
External links
News
Mark Stryker, "Knight Arts Challenge awards $2.24M to 45 Detroit ideas", Detroit Free Press, November 3, 2016. Bree Gant's project, to be granted $8,000 from the Knight Foundation upon matching money from other sources, aims "to explore the intersection of African cultural traditions in Detroit's art scene today with AfroFuturePast, which includes 'zines, short dance films and community events." Stryker notes that "grant recipients must raise funds within the next year or so to match the commitment by the foundation."
Leanna Commins, "What Detroit Is Really Like, According To Artist Bree Gant", Fader, July 29, 2016.
Ed English, "Two Of A Kind: Bree Gant And Blair Watts", Between the Lines, August 6, 2015.
Reviews
PLACEHOLDER FOR REVIEWS