Home > Artists > Photographers > Emma Lockridge
Emma Lockridge
THIS PAGE IS A PLACEHOLDER UNTIL A MORE THOROUGH PAGE IS WRITTEN.
Photographer and environmental activist.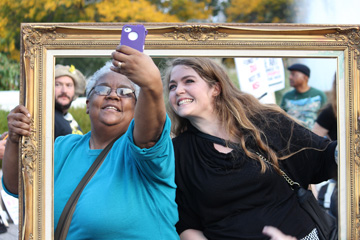 Prof. Gilda Snowden takes a selfie with Katie Craig (right), who brought an empty frame to a protest against Detroit creditors who wanted to ransack the DIA's collection. Photo by Emma Lockridge.
Current exhibition
The Secret Lives of Black Girls at the Boll Family YMCA. Opened October 20.
Upcoming exhibitions
Working title: "Pollution", 2017, gallery TBA.
Past exhibitions
Picturing Pollution from the Hole at Trinity-St Mark's United Church of Christ in Detroit. November 13 & November 14, 2016.
The Complete Compendium of Detroit's Art Galleries at 555 Gallery & Studios, August 14 – 16, 2014.
Gilded, a special tribute to Gilda Snowden at Whitdel Arts. January 10, 2014 – February 22, 2014.
News