Home > Artists > Painters > Hubert Massey
Home > Artists > Sculptors > Hubert Massey
Hubert Massey
Painter, muralist, sculptor, Kresge Fellow in the Visual Arts 2011. In 2010, the Michigan Department of Trans­por­ta­tion commissioned him for a mural near the Bagley Pedestrian Bridge. In 2018, he started working on a fresco at Cobo Center (now TCF Center) in downtown Detroit, which may in time be part of an even larger project there. No relation to Tiff Massey.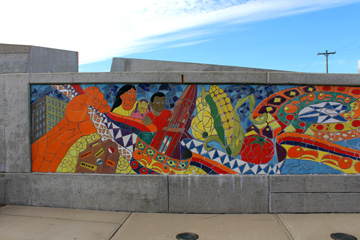 Detail of Hubert Massey's Spiral of Life tile mosaic mural near the Bagley Pedestrian Bridge.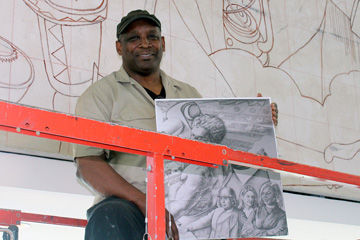 Hubert Massey on a skylift, about to go up to work on his fresco at Cobo Hall.
Upcoming exhibitions
Various plans.
Past exhibitions
I didn't start keeping track until 2019. I do want to compile a listing that goes back a little farther.
Hot, Cold & Collected at Collected Detroit. July 22, 2022 — August 20, 2022.
2020 All Media Exhibition, at Detroit Artists Market (juror). January 17, 2020 — February 15, 2020.
Deeply Detroit: Global Artists, Local Roots at Collected Detroit. July 13, 2019 — August 31, 2019.
...many more...
External links
There is a page about Hubert Massey on an infamous online encyclopedia that has slandered John Seigenthaler and many others, but since I can't vouch for the veracity of the information presented there at any given time, I will not provide a link.
News
Lee DeVito, "A fresh coat of paint: Beloved Charles McGee mural gets a long awaited touch-up — with help from Hubert Massey", Metro Times, August 14 — 20, 2019. On August 7, 2019, Hubert Massey completed his restoration of Charles McGee's 1974 mural on what was then the Pontchartrain Wine Cellars, and is now the Detroit Foundation Hotel.
Michael Hodges, "Hubert Massey fresco in Cobo Center nears completion", Detroit News, April 11, 2018.
Omar Abdel-Baqui, "Watch Detroit artist paint fresco at Cobo Center through May", Detroit Free Press, March 29, 2018.
Reviews
PLACEHOLDER FOR REVIEWS