Portrait of Charles McGee, painting by
Jim Pallas
.
Home > Artists > Painters > Charles McGee
Charles McGee
Painter, sculptor, educator, regarded as one of the art giants of Detroit. Awarded an honorary doctorate from the College for Creative Studies. Recipient of the 2008 Eminent Artist award from the Kresge Foundation. Some of his work is in the permanent collection of the Detroit Insititute of Arts.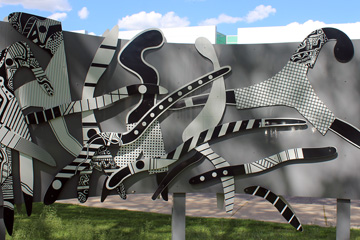 Detail of a sculpture by Charles McGee, Spirit Renewal, installed at the Horace H. Rackham Educational Memorial Building, across the street from the DIA.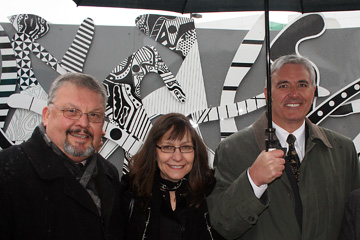 Representatives of the Engineering Society of Detroit, including then-President Mumtaz Usmen (left), at the unveiling of Spirit Renewal on April 6, 2011.
Current exhibition
Charles McGee died on February 4, 2021. On October 15, 2021, Library Street Collective announced that they're representing the artwork of the McGee estate. "Since his passing in early 2021, the gallery has worked alongside his daughter, Lyndsay McGee, to assemble a collection of his remaining works," according to the announcement from the gallery.
There are some opportunities to see Charles McGee's work at any time, such as on the grounds of the Charles H. Wright Museum of African American History.
Upcoming exhibitions
I believe there will be a memorial exhibit at some point, but because of the coronavirus pandemic, such an exhibit probably won't take place this year.
Past exhibitions
Spark, curated by Ann Smith, at 333 Midland. July 17 — 27, 2019.
Homemade, curated by McArthur Binion, at Library Street Collective. October 27, 2018 — January 12, 2019.
Détroit Noir: A Celebration of the Black Aesthetic, at Norwest Gallery of Art. February 10 — 28, 2018.
Still Searching at 1505 Woodward, presented by Library Street Collective and sponsored by Bedrock. June 1, 2017 — July 1, 2017.
Now and Then: Artists Contemplate the Summer of 1967 at Detroit Artists Market. April 28, 2017 — May 27, 2017.
...many, many more...
External links
News
Mark Stryker, "Charles McGee, leading light of Detroit art, dies at 96", Detroit Free Press, February 5, 2021.
Lee DeVito, "A fresh coat of paint: Beloved Charles McGee mural gets a long awaited touch-up — with help from Hubert Massey", Metro Times, August 14 — 20, 2019. On August 7, 2019, Hubert Massey completed his restoration of Charles McGee's 1974 mural on what was then the Pontchartrain Wine Cellars, and is now the Detroit Foundation Hotel.
Lee DeVito, "Detroit artist Charles McGee debuts new mural alongside exhibition", Metro Times, May 31, 2017.
There are plenty of old articles which I may add selectively later on.
Reviews
MaryAnn Wilkinson, "114 Charles McGee", Essay'd, December 12, 2018. "Such works are the most insistent demonstration of McGee's optimistic vision; his exuberant and vivacious visual language, developed over an extraordinary career, is a joyful paean to synthesis, multiplicity, and the intricate, syncopated rhythms of democracy."