Home > Galleries > Detroit > Collected Detroit
Collected Detroit
905 Henry, Suite 300
Detroit MI 48201
2439 Fourth
Detroit MI 48201
A gallery near Cass Technical High School. The current location is in the same block as the old location, you just have to round a corner.
There was so much art packed together in a space larger than a typical gallery, that at the first exhibition I wondered if it would be more appropriate to call this place a museum rather than a gallery.
I had the impression that even the large selection on display at the opening exhibit was but a tip of the iceberg, and that the total collection consists of local artists, mostly living, and famous artists, of past generations, in perhaps equal measure.
Gallery hours are Wednesdays through Fridays from 11:00 a.m. to 5:00 p.m., Saturdays from 11:00 a.m. to 4:00 p.m., and by appointment.
Upcoming exhibitions
Artificial Horizons, a "robotic art exhibition" in conjunction with the University of Michigan. Slated to open October 7, with a reception from 6:00 p.m. to 9:00 p.m., and run to October 18.
Past exhibitions
At the current location
Seydehwon Nagbe. September 9 — 23, 2023.
Moddities: Cabinets of Curiosities, various artists. June 9, 2023 — July 8, 2023.
Voices & Choices Soiree, various artists and designers. March 18, 2023 — April? ??, 2023.
Something about Black History Month. February 2023.
At the original location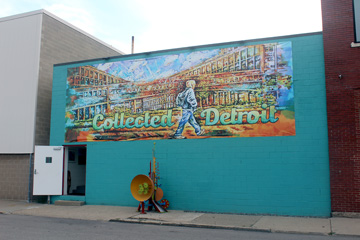 Sign at the original location.
An exhibit of mid-20th Century design. November 12, 2022 — January 21, 2023.
Hot, Cold & Collected, various artists. July 22, 2022 — August 20, 2022.
Imagine This! Part One and Tea Dance, two exhibits sponsored by Mighty Real / Queer Detroit. June 5 — 30, 2022.
Bam: My Art Is My Voice, Judy Bowman, Darin Darby, Laura Gibson, Henry Heading, Onzie D. Norman. June 19, 2021 — July 24, 2021.
Untethered Space, Jan Brown, Steven Ligosky, Robert Piatek, Ron Rodriguez, Foster Willey. January 24, 2020 — February 22, 2020.
Totally Fab, Urban Jupena. October 25, 2019 — January 10, 2020.
Artists Who Teach, various high school art teachers. September 20, 2019 — October 11, 2019.
Deeply Detroit: Global Artists, Local Roots, Richard Bennett, Judy Bowman, Ijania Cortez, Henry Heading, Michael Horner, Artis Lane, Hubert Massey, John Osler, Dennis K. Smith. July 13, 2019 — September 7, 2019.
perSIStence, April Anue, Pat Duff, Asia Hamilton, Sydney G. James, Nicole Macdonald, Carole Morrisseau, Sabrina Nelson, Amy Sacka, Ann Smith. May 3, 2019 — June 7, 2019.
Textures of the City, Darius Baber, Donald Calloway, Eric Fogle, M. Saffell Gardner, Najma Ma'at, Mandisa Smith, Gilda Snowden, Paula Zammit. March 8, 2019 — April 6, 2019.
Grand opening. December 8, 2018 — March? 2?, 2019.
External links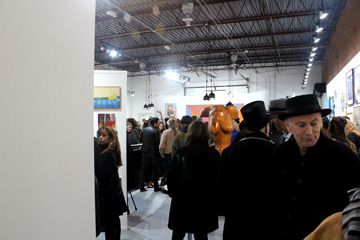 It doesn't look like a very big gallery, but then you are about to go past this dividing wall...
News
Reviews
PLACEHOLDER FOR REVIEWS