Home > Artists > Painters > Jason Reed
Jason Reed
Painter and print designer. Owned Start Gallery downtown until excessively rising rent forced him out. Now he has a studio at Corktown Studios. Owner of Klever Design, publisher of ZIPR magazine.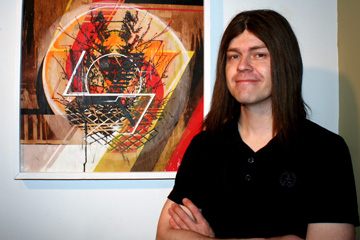 Jason Reed with one of his paintings at Start Gallery.
Current exhibition
Hatchback 12, with juror Lauren Semivan, at Hatch Art. Opened April 7 and slated to run to April 28. Gallery talks are slated are slated for 2:00 p.m. on April 14, April 21 and April 28; I don't know which of those Jason will be on.
Upcoming exhibitions
Various plans.
Past exhibitions
Solo show at Corktown Studios. May 13, 2017.
...a few more...
Bold Moves, 4th anniversary celebration of Start Gallery, with Dennis Maitland and Kevin McCoy. May 2, 2015.
...a few more...
External links
News
Alonso del Arte, "Start Gallery celebrates fourth anniversary", Examiner.com, May 2, 2015. (Archived copy available).
Reviews
PLACEHOLDER FOR REVIEWS