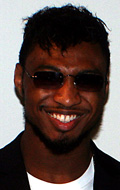 Portrait of Austen Brantley, photograph by
Alonso del Arte
.
Home > Artists > Sculptors > Austen Brantley
Austen Brantley
Precociously talented sculptor. Winner of the Gilda Award from the Kresge Foundation in 2017. Not to be confused with Austin Brady.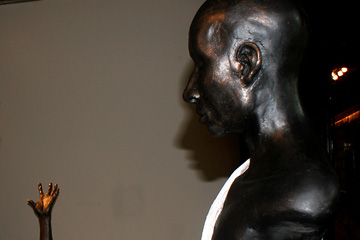 Two of Austen's sculptures at 555.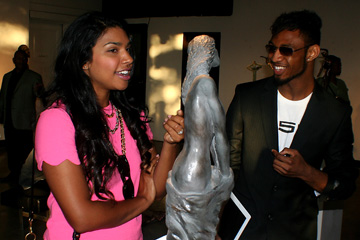 Austen (right) with a new fan at 555.
Upcoming exhibitions
Behind the Mask at the Norwest Gallery of Art. Slated to open August 14 27, with a reception from 6:00 p.m. to 9:00 p.m. and slated to run to September 14.
Plus various other plans.
Past exhibitions
Multifaceted Narratives: An Exploration of Black Figurative Art, curated by Juana Williams, at Detroit Artists Market. August 14, 2020 — September 12, 2020.
Détroit Noir: A Celebration of the Black Aesthetic, at Norwest Gallery of Art. February 10 — 28, 2018.
With Ackeem Salmon at the Sherwood Forest Art Gallery. April 9, 2016 — ???.
Solo show at 822 Gallery in Royal Oak. October 25, 2015 — ???.
Solo show at Liberal Arts Gallery. July 10 — 31, 2015.
Solo show in the Whitdel Arts Emerging Artists space. March 13, 2015 — April 25, 2015.
Solo show at 555 Gallery & Studios. July 5 — 26, 2014.
External links
News
Alonso del Arte, "Precocious sculptor impresses at Liberal Arts Gallery", Examiner.com, July 12, 2015.
Reviews
Nichole M. Christian, "93 Austen Brantley", Essay'd, February 13, 2018. "Brantley's actual body of work contradicts much of what his youth and lack of formal training imply. His command of craft is evidenced in the lifelike quality of his sculptures. The eyes, the shapes, speak to a nuanced understanding of the human form as a language all its own, and to a disciplined commitment to learning by doing."