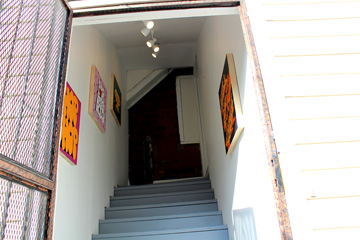 The stairwell that gives the gallery its name, it leads up to a small room where artwork is also shown.
Home > Galleries > Detroit > Stairwell Gallery
Stairwell Gallery
1981 25th Street
Detroit MI 48216
Like Baby Grand, this is a gallery run out of someone's house. But unlike Baby Grand, the Stairwell Gallery has a much clearer demarcation between the residence and the gallery, with a padlocked door preventing even the most absentminded visitor from wandering into a private area.
The gallery is accessed from the rear porch. A door opens onto a stairwell that leads up to a small room. Artwork is displayed in both the small room and in the stairwell (hence the gallery's name).
In another important difference from Baby Grand, the Stairwell Gallery has regularly scheduled gallery hours, specifically, Saturdays from 4:00 p.m. to 7:00 p.m.; these hours were confirmed by a visit in 2016. However, a 2017 visit suggests gallery hours have been eliminated and now it is only at opening receptions and by appointment that one can come to the gallery.
In March or April 2017, the owner painted the floors of the room and stairwell white, and for the 90% Off exhibit provided visitors with shoe coverings.
Current exhibition
Crew From Young, Marlo Broughton. Opened July 27, 2017. It has probably come down by now, but, as of February 5, 2022, it's still listed on the front page of the gallery's website.
Upcoming exhibitions
Don't know, but I am still curious.
Past exhibitions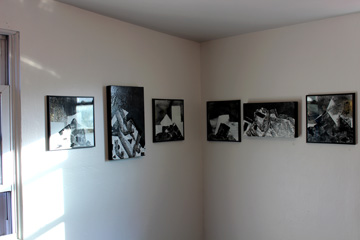 Nic's paintings in the Stairwell Gallery upper room
I've Been Thinking, Mike Burdick. June 29, 2017.
Free Money & Other Bright ideas, George Vidas. June 1 – ???, 2017.
Berny, Patrick Quinn. May 5 – ??, 2017.
90% Off, Ben Saginaw and Heidi Barlow. April 6 – ???, 2017.
Lifestyle, Vaughn Taormina and Michelle Tanguay. February 9, 2017 – March ??, 2017.
Mace of Disruption, Matthew Bajda. September 15 2016 – ???, 2016?.
Smiling on the Inside, Amber Locke. August 4, 2016 – September 8?, 2016.
A: Regular Basis, solo show of an artist who used to go by "Nic Notion" but is now going by "NNII." June 23, 2016 – July 30?, 2016.
Jesse Kassel solo show. May 5, 2016 – June 11, 2016.
External links
News
No news yet.
Reviews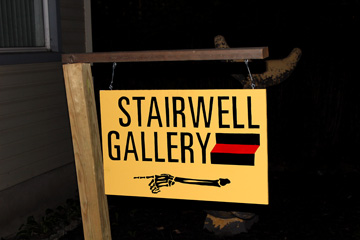 This sign pointed you from the street to the back porch, from which you can enter the gallery. But, at some point prior to April 28, 2018, it was removed.
No reviews yet.