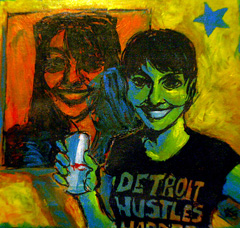 Portrait of Michelle Tanguay by
Kelly Guillory
.
Home > Artists > Painters > Michelle Tanguay
Michelle Tanguay
Painter excelling in portraits. When she was selected for the Red Bull House of Art, Michelle already had a long list of exhibits to her credit. But Red Bull opened even more doors for her, leading to several prestigious commissions (a portrait of Niagara, for example) and a collaboration on a Sierra Mist billboard. Lately she has been layering her portraits of people with geometrical patterns.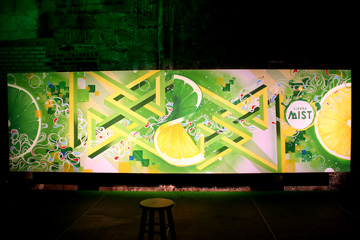 The Sierra Mist billboard painted by the team led by Michelle Tanguay.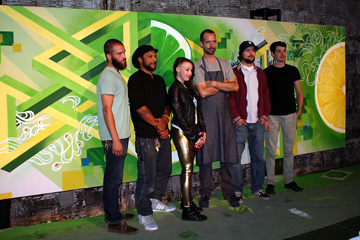 Michelle Tanguay (third from left) with her billboard artist team and Chef Perrone at the Sierra Mist celebration.
Upcoming exhibitions
Various plans, not yet announced.
Past exhibitions
Lifestyle, with Vaughn Taormina at Stairwell Gallery. February 9, 2017 – March ??, 2017.
The Detroiter at Heron Arts in San Francisco (in collaboration with Inner State Gallery). July 30, 2016 – ???, 2016?
Cups, curated by Alice V. Schneider, at Detroit Artists Market. June 10, 2016 – July 16, 2016.
Exploring the Figure at Janice Charach Gallery. January 10, 2016 – February 18, 2016.
LAX/DTW: Thinkspace Invades Detroit at Inner State Gallery. June 6, 2015 – July 3, 2015.
The "Alumni" Exhibition, featuring one piece each from almost every artist who's gone through the Red Bull House of Art program. May 21, 2015 – September 7, 2015.
We Have A Dream at Inner State Gallery. January 25, 2015 – February 21, 2015.
Featured artist at the Museum of Contemporary Art Detroit. ???, 2014????
Start Wars, an homage to Star Wars, at Start Gallery. May 5, 2013 – June 1, 2013.
...a few more to 2012...
Red Bull House of Art, Round 2. August 24, 2012 – November 17, 2012
...and several more going back to 2010...
Also, Michelle collaborated with Camilo Pardo for a Detroit Artists Market fundraiser at Ladder 12 in Corktown scheduled on October 3, 2015.
External links
News
Anthony Brancaleone, "Detroit muse: Artist: Michelle Tanguay", The Metropolitan Detroit, June 2015 (requires Adobe Flash), p. 9.
Alonso del Arte, "Michelle Tanguay leads team on new Sierra Mist billboard", Examiner.com, September 25, 2014.
Tamara Warren, an article in Red Bulletin, October 2012.
Reviews
Not sure who the author is on this one: "54 Michelle Tanguay", Fingers on Blast!, April 20, 2015. "Michelle Tanguay is a prolific and exceptionally talented visual artist from Detroit. We came across her work last year and have been trying to wrap our heads around it since. ... Make sure you check out her work here and support this woman!"
I'm sure there are more, I will add them here as I find them.