Home > Artists > Painters > Adnan Charara
Adnan Charara
Painter and owner of Galerie Camille.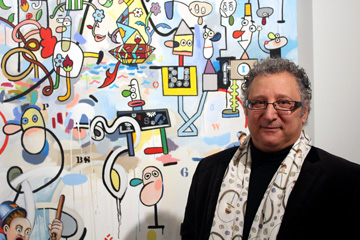 Adnan with one of his paintings at Galerie Camille. Note that the scarf has one of his designs.
Upcoming exhibitions
The Black and White Show at Galerie Camille. Slated to open November 15, with a reception from 6:00 p.m. to 9:00 p.m., and run to December 14.
Plus various other plans.
Past exhibitions
Portray at Wasserman Projects. January 25, 2019 – April? ??, 2019.
Long Ago and Far Away, with Michel Erussard at Galerie Camille. November 15, 2018 – November 28, 2018.
Scènes Comiques, Scènes Tragiques, with Michael Erussard at Galerie Camille. October 20, 2017 – December 3, 2017.
...some more going back to 2015...
Elements of Whimsy, at the N'Namdi Center for Contemporary Art. September 12, 2014 – October 25, 2014.
...more going back to 2012...
External links
News
PLACEHOLDER FOR NEWS
Reviews
Jim Welke, "Elements of Whimsy: Adnan Charara at N'Namdi", artifizz, October 17, 2014. "Adnan Charara brings a sly sense of humor to his work. He paints, does collage, and creates sculpture from found objects. Found or not, nearly all of the works in this exhibition possess elements inherently in conflict, while to the eye they maintain aesthetic harmony. Conflict creates dramatic tension, imposes a narrative arc, but in Charara's work it brings the funny too. In this show, the work projects wry humor. That's the hook to bring you closer."