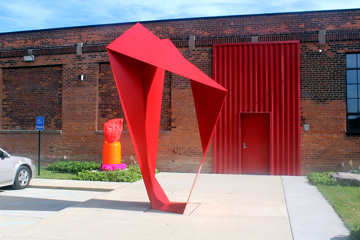 If you see this red door and the sculptures pictured here, you're probably in the right place.
Home > Galleries > Detroit > Wasserman Projects
Wasserman Projects
3434 Russell St #502
Detroit MI 48207
2167 Cole St
Birmingham MI 48009
Like David Klein Gallery, Wasserman Projects now has a Detroit location. But unlike Klein, Wasserman is not keeping the Birmingham location.
Gallery hours were at first somewhat complicated, but they were later sim­pli­fied to Wednesdays to Saturdays from 11:00 a.m. to 5:00 p.m. with two extra hours (to 7:00 p.m.) on Fridays.
Current exhibition
Slated to open September 23, with a reception from 5:00 p.m. to 8:00 p.m., and run to December 16:

Shifting Frequencies, Beth Lipman and Laura Letinsky. These two artists will have a gallery talk on November 29 at 6:00 p.m.
Palette / Palate, Brian Bailey.
Upcoming exhibitions
Not yet announced.
Past exhibitions
In Detroit
Faint, Loren Erdrich, Hildur Ás­geirs­dót­tir Jóns­son, Sa­ra Ni­shi­ka­wa, Eleanor Oakes, Matt Wedel. June 24, 2023 — August 19, 2023.
Caitlin MacBride and Alex Schweder. March 18, 2023 — June 3, 2023.
Object of Affection, Josh Dihle, Reuven Israel, Elspeth Schulze. January 14, 2023 — March 4, 2023.
Ancient Entanglements, Brandon Clifford and Jo Lobdell. September 24, 2022 — December 17, 2022.
Cast Illusions, Jessica Dolence, Beth Katleman, Sarah Meyohas, Victoria Shaheen. February 26, 2022 — May 14, 2022.
Ocean Body, Helga Davis, Mark DeChiazza, Shara Nova, John Dante Bianchi, Lily Cox-Richard, Ed Fraga, Jack Henry, Sandra Osip, Ashley Eliza Williams. September 25, 2021 — December 18, 2021.
Post, Simon Anton, Joonghan Bae, Chu Peng Chih, Dee Clements, Ben Cook, Madelaine Corbin, Rebecca Daryl Smith, Caroline Del Giudice, Brett Evans, Elizabeth Ewing, Laura D. Gibson, Kaysi Grimes, Xiaojun Huang, Anke Huyben, Ray Im, Ish Ishmael, Trevor Jahner, Sam Keller, Andie Labgold, Yuri Lawrence, Karen Lee, G.E. Leo, Lauren Levato Coyne, Naama Levit, Jun Li, Lorenzo Lorenzetti, Violet Luczak, Erik Magnuson, Isabella Maroon, Ciaran McQuiston, Cody Norman, Dominic Palarchio, Ha Joung Park, Emily Ryan Stark, Hilla Shapira, Ke Shi, Taylor Stewart, Josh Storer, Antonia Stoyanovich, Mingdong Sun, Rebekah Sweda, Sarah Thomas, Natalie Wadlington, Zhaozhao Wang, Aobo Wang, Luke Warren, Colleen Zickler (these are all graduating Cranbrook students). May 14, 2021 — June 19, 2021.
Reflecting Pool, Efe Bes, Jason DeMarte, Jacob Feige, Matthew Hansel, Esther Shalev-Gerz, Virginia Rose Torrence, and Graem Whyte. January 31, 2021 — February 22, 2021.
Summer Wheat, Hirosuke Yabe. September 27, 2019 — January 10, 2020.
A one-day exhibit of paintings by Maria DiChiera, to benefit the David DiChiera Artistic Fund at the Michigan Opera Theatre. August 25, 2019.
Parallel Visions, said to be by a group of Kresge Fellowship artists. July 12, 2019 — August 24, 2019.
Maritza Caneca, Jack Henry, Scott Hocking. Not sure if this is a group show or three separate solo shows. April 26, 2019 — June 29, 2019.
January 25, 2019 — April? ??, 2019:

The Gold Room, Esther Shalev-Gerz.
Felice Pazner Malkin retrospective.
Portray, Ken Aptekar, Adnan Charara, Donald Dietz, Matthew Hansel, Robert Raphael, Michael Scoggins, Esterio Segura, Susan Silas, William Irving Singer, Ryan Standfest, Koen Vanmechelen, Jamie Vasta, Bruno Walpoth, and Hirosuke Yabe

October 5, 2018 — December 15, 2018:

Coatlicue's Return, Marela Zacarias.
Speculations, Sarah Meyohas.

Color-aid, Ken Aptekar, Abigail Murray, Peter Zimmermann. July 13, 2018 — August 30, 2018.
Fluent in the Language of Dreams, Michele Oka Donor. February 16, 2018 — May 5, 2018.
Homemade Ice Cream, Jason Yates. September 22, 2017 — December 16, 2017.
Group show. July 14, 2017 — August 26, 2017.
City of Queen Anne's Lace, Alejandro Campins and Jose Yaque. April 21, 2017 — June 24, 2017.
After Industry, Jason DeMarte and some European artists. February 3, 2017 — April 8, 2017.
Energy/Mass, Koen VanMechelen. September 22, 2016 — December 17, 2016.
Wasserman Projects hosts Colnaghi from London to present Old Masters / New World. September 7 — 11, 2016.
Wasserman Projects Selections, featuring artwork by Ken Aptekar, Josh Bolin, Ed Fraga, Kent Henricksen, Nancy Mitchnick, Emilio Perez, Bradley Rhodes, Michael Scoggins, Jose Vincench, Jason Yates and Peter Zimmermann. August 5, 2016 — August 20, 2016.
Space Between Time, Esther Shalev-Gerz. April 29, 2016 — July 9, 2016.
Some other exhibit in early 2016...
Grand opening of the Detroit location. September 25, 2015 — December 12, 2015.
In Birmingham
All exhibitions prior to September 2015 were in the Birmingham location. No promises that this website will have a listing.
External links
The official website seems to have all the pertinent information, but its design leaves a lot to be desired, and can sometimes be slow to load.
News
Reviews
PLACEHOLDER FOR REVIEWS