Home > Artists > Sculptors > Caroline Del Giudice
Caroline Del Giudice
Sculptor and mixed media artist. Cranbrook Academy of Art graduate.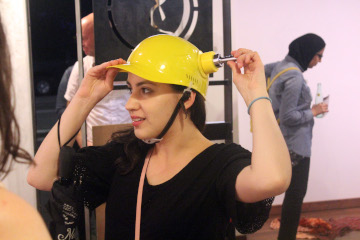 A friend of Caroline's tries out the flushing hat at Corktown Studios.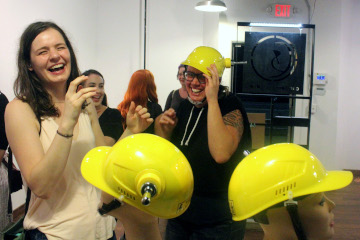 Caroline del Giudice (left) laughs as her friend tries her flushing hat at Corktown Studios.
Upcoming exhibitions
At the Gund Gallery of Kenyon College, in Gambier, Ohio. Slated to open in April 2020?
The Shape of Sculpture at the Sculpture Center in Cleveland, Ohio?
Plus various other plans.
Past exhibitions
Everything Else, with Neha Vedpathak and others at David Klein Gallery. May 7, 2022 — June 11, 2022.
Post at Wasserman Projects. May 14, 2021 — June 19, 2021.
Show of Hands at Playground Detroit. November 19, 2020 — December? ??, 2020?
First We Shape the Tools, Then the Tools Shape Us at Corktown Studios. September 21, 2019.
Featured artist at Detroit Artists Market. January 18, 2019 — February 16, 2019.
Biennial All Media Exhibition 2016 at Detroit Artists Market. April 29, 2016 — May 28, 2016.
...and several more going back to 2015...
External links
News
PLACEHOLDER FOR NEWS
Reviews
PLACEHOLDER FOR REVIEWS