Home > Artists > Painters > Amy Fell
Amy Fell
Painter, a great talent flying under the radar. With her meticulous process and precise technique, she creates striking paintings full of marvellous details that are not always apparent on first viewing. Oc­ca­sion­ally paints abstractly. Her studio is in Plymouth.
Amy showed artistic talent as a child, but in college she focused on political science and communication rather than art. It wasn't until after having children that Amy decided to cultivate her talent for drawing and painting.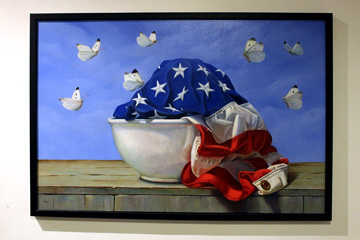 A painting of an American flag in a bowl, by Amy Fell.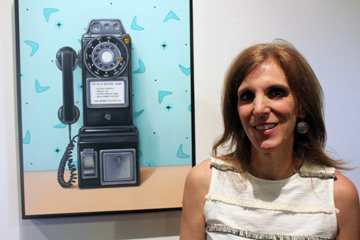 A painting of an old rotary pay phone, by Amy Fell.
Upcoming exhibitions
Various, not yet announced.
Past exhibitions
Object at Button Gallery in Douglas, Michigan. June 9, 2018 – ??? ??, 2018?
Person, Place or Thing, with Darcel Deneau and Melissa Jones at Corktown Studios. May 19, 2018 – June 18, 2018.
Solo show at Blossoms Midtown in Detroit. December 2, 2017.
Doors of Perception at Janice Charach Gallery. October 29, 2017 – December 7, 2017.
Solo show at the Wayne County Community College, Western Campus, Belleville. June 6, 2017 – July 5, 2017.
Text/Image at the Ann Arbor Art Center. May 5, 2017 – June 3, 2017.
Corktown Studios Review at Janice Charach Gallery. May 15, 2016 – June 16, 2016.
Corktown Studios 4th Anniversary Show. March 13 – 26, 2016.
Friends of Friends at the Red Bull House of Art. Paula Zammit invited Amy to exhibit with her. March 5, 2016 – April 3, 2016.
...might be missing a few betwen 2015 and 2016...
Objectified at the Carr Center. November 20, 2015 – January 15, 2016.
...a few more going back to 2008...
On August 16, 2018, Amy Fell had a "meet the artist" event with Claudia Hershman and Mike Ross at 1701 Bespoke, 4160 Woodward, Detroit, Michigan. The art will be up until some time in September.
External links
News
Reviews
PLACEHOLDER FOR REVIEWS