Home > Artists > Painters > Melissa Jones
Melissa Jones
Painter. Has a bachelors in art education and a masters in art therapy, both from Wayne State University. Member of the Detroit Artists Market board, and exhibition committee.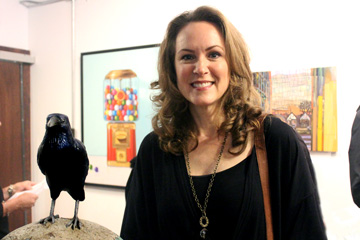 Melissa Jones with her sculpture of a raven at Corktown Studios.
Current exhibition
Continuing Narratives at Galerie Camille. Opened January 14 and slated to run to February 5.
Upcoming exhibitions
Various plans.
Past exhibitions
Hard / Soft at Galerie Camille. March 19, 2021 — April 17, 2021.
Person, Place or Thing, with Darcel Deneau and Amy Fell at Corktown Studios. May 19, 2018 – June 18, 2018.
Cabinet of Curiosities at Hatch Art. September 9 – 30, 2017.
...a few more...
External links
News
PLACEHOLDER FOR NEWS
Reviews
PLACEHOLDER FOR REVIEWS