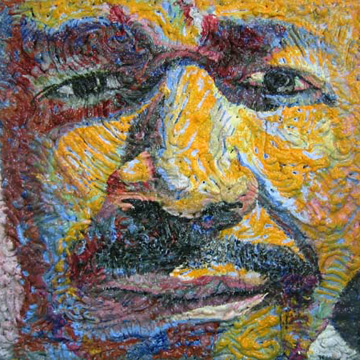 Portrait of Tyree Guyton, painting by
Jim Pallas
.
Home > Artists > Painters > Tyree Guyton
Home > Artists > Sculptors > Tyree Guyton
Tyree Guyton
THIS PAGE IS A PLACEHOLDER UNTIL A MORE THOROUGH PAGE IS WRITTEN
Painter, sculptor, Kresge Fellow in the Visual Arts 2009, best known for the Heidelberg Project. Regarded as one of the art giants of Detroit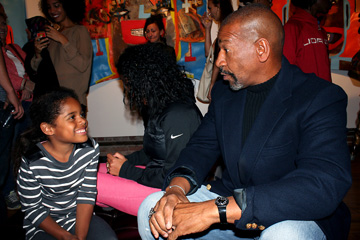 Tyree Guyton (right) and a young fan at Inner State Gallery. Photo by Alonso del Arte.
Current exhibition
Something about the Heidelberg project at the Museum of Contemporary Art Detroit. Opened September 7. There will be a gallery talk with Oneita Jackson on November 15 at 7:00 p.m.
Upcoming exhibitions
Various plans in Michigan and throughout the world.
Past exhibitions
Long list. Recent exhibits include shows in Ann Arbor, New York, China, Switzerland. In 2014, his Spirit showed at Inner State Gallery.
De facto Detroit: Selections from The N'Namdi Collection at Center Galleries (on the College for Creative Studies campus). September 17, 2016 – October 22, 2016.
Face-ology at Inner State Gallery. August 12, 2016 – September? ??, 2016.
...many more...
External links
News
Long list, will compile gradually. Most of the news about Tyree Guyton concern the Heidelberg Project.
Reviews